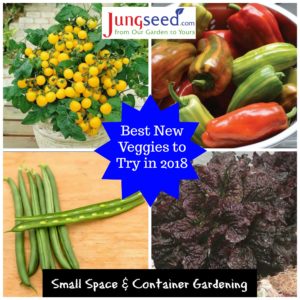 With a new catalog comes the opportunity to try new products in your garden. This year we have added a large variety of exciting new seeds, plants and gardening supplies. Over the next few weeks we will introduce you to some of our new for 2018 offerings to help you get insight into what will work best in your garden this year.
We know you have a lot of choices, but many people have limited space when it comes to growing their garden. That is why, this week we are showcasing some of our favorite new vegetables to the Jung Seed Co. catalog that not only work in large spaces but do great in containers or small gardens.
Any Size Anywhere Edible Garden
Growing vegetables in containers makes it possible for almost everyone, no matter how big or small their backyard, to experience the amazing flavor and freshness of home-grown vegetables. Many vegetables grow well in containers, but the key is to select the right plants and make sure they get enough sun and water. Here are a few new for 2018 plants that will help you grow a good amount of food in just a few pots or a small bed.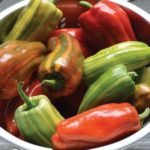 The Candy Cane Red Hybrid Pepper provides eye-catching foliage and fruit that ripen from green striped to solid red. These plants provide delicious sweet crisp peppers for snacking, salads, grilling, roasting and more. Their beauty makes them an excellent addition to a combination planter with bright annual flowers.
The Yellow Patio Choice Hybrid Tomato offers an impressive amount of fruit yields in a compact plant. Each plant produces over 100 bright yellow, sweet flavored, cherry-type tomatoes. A National AAS Winner for its unbeatable disease, heat, humidity, and rain resistance. These cuties are perfect for hanging baskets or lovely combination planters with flowering annuals and foliage plants.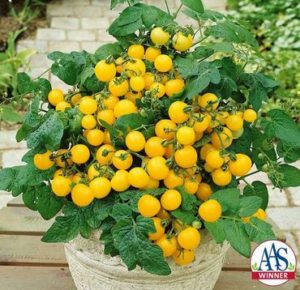 The Merlot Lettuce is said to be the darkest red lettuce in the world, which makes it very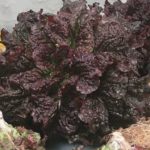 high in antioxidants. This super healthy, deep red beauty is crisp, bitter-free and its sweet flavor is delicious at every stage, from baby leaf to full size. It is absolutely striking mixed in containers or garden beds with annual plants.
The Seychelles Pole Bean's high yielding vines produce multiple crops over the season. These stringless beans are ideal for canning and your favorite recipes. This National AAS Winner grows well in containers or in the ground, showing tolerance against Bean Common Mosaic Virus. Add poles or a trellis for greater yields and longer harvests.