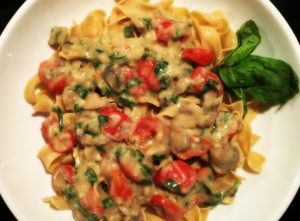 Summer and fall are a fantastic time to experiment with recipes that use your garden harvest. This recipe is one of my favorites because you can add or subtract a lot of different vegetables depending on your taste.
It is so versatile and works great as a side dish or is filling enough to serve as the entrée. A few other vegetables to try in this creamy pasta are: broccoli, artichokes, asparagus, peas or whatever has popped up in your garden! You can serve this dish over zoodles for another way to slip in more veggies and skip carbs! Stir in chicken or shrimp or serve it alongside your favorite grilled protein if your family prefers meat on their dinner plate.
My family and I are big fans of "Meatless Mondays" and love to enjoy the different flavors our garden has to offer. By cutting meat and dairy from our meals at least once a week, we save cash, help the environment, and most importantly eat more healthy fresh vegetables and grains. The more vegetables and herbs you grow at home = the more money you can save at the grocery store and the more you know where your food comes from!
Besides cutting the meat from our Mondays, we have also cut the dairy from our meals. As a cheese state-born and raised family, this was no easy feat but with a new baby highly allergic to dairy this has become one of our favorite go to dairy-free weeknight meals.
Try it out and let us know what you think or what combinations of garden-fresh veggies you added to your creamy pasta!
Ingredients
3 cups halved (long-ways) grape tomatoes, this works well with other sweet tomatoes too – feel free to get creative just make sure to cut them small and consistent (think half of a grape tomato)!
2 cups sliced mushrooms
2 cups chopped spinach
Olive oil
2 medium diced shallots
8 large minced/crushed cloves garlic
Pinch each sea salt and black pepper
3-4 Tbsp (25-33 g) unbleached all-purpose flour (or another thickener of choice)
2 1/2 cups unsweetened plain Almond Breeze (sub up to 1 cup with veggie stock, if preferred)
Small handful of fresh chopped basil
1 tsp dried basil
1 tsp dried oregano
1 tsp red chili flakes
Instructions
Preheat your oven to 400 degrees F and use a medium size bowl to toss tomatoes in enough olive oil to coat and season with cracked pepper and sea salt. Place the cut side up on a glass baking dish covered with cooking-spray or olive oil and bake for 20 minutes while you prepare the rest of the dish. Then set aside.
Bring a large pot of water to a boil and cook pasta according to package instructions. When done, drain, cover and set aside.
While the tomatoes and pasta are cooking you can prepare your sauce. In a large skillet over medium-low heat, add 1 Tbsp olive oil, the garlic, mushrooms and shallot. Add a pinch of salt and black pepper and stir frequently, cooking for 3-4 minutes until softened and fragrant.
Sprinkle in 3-4 Tbsp flour and stir until everything is fully combined. Then slowly pour in the almond milk a little at a time stirring continuously so clumps don't form. Add another healthy pinch of salt and black pepper, red chili flakes, dried basil and oregano as well as the spinach. Bring the sauce to a simmer and cook for another 4-5 minutes to thicken. Once the sauce is to your desired thickness, taste and adjust seasonings as needed. Then stir in your pasta and roasted tomatoes.
Serve immediately over pasta of your choice and garnish with extra black pepper, and fresh basil.
Inspired by the Minimalist Baker
---