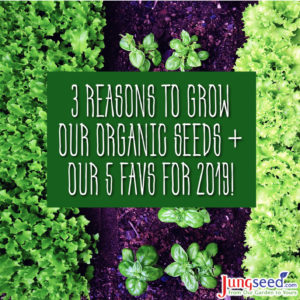 It's official – Jung is growing organic! Since 1907 we've supplied the highest quality seeds at fair prices to gardeners and farmers. Now we are committed to providing the same reliability and excellence in every organic seed packet along with some of the best prices in the country.
For seeds to be labeled organic they must be nurtured and processed in strict accordance with the USDA's National Organic Program (NOP) standards. We identified organic varieties of old classics and customer favorites as well as selected exciting up-and-comers for our 2019 catalog.
3 Reasons to Grow Our Organic Seeds:
Grown Without Synthetic Pesticides
Certified Organic, Non-GMO & open pollinated (except for hybrid seeds)
Guaranteed to Germinate
With over 60 new organic varieties for top flavor, quality & yield it can be hard to know where to start. Here are a few of our favorites for 2019.
5 Favorite Organic Varieties to Thrive in Your Garden
We take great pride in being one of the few family-owned seed businesses that have helped Americans grow their gardens for over 112 years. We hope that this new offering of organic seeds, allows you to grow your own food organically and economically.
We are here to answer any questions and help you grow your best garden, just email us at info@jungseed.com.
Learn more about Starting Seeds from our other Blog Posts