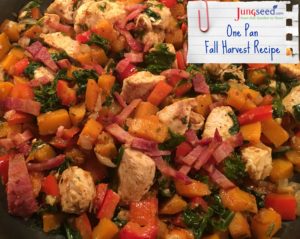 I love one pan meals for an easy and quick week night dinner. Less pots, pans, and baking dishes mean less clean up and more time to enjoy with family. Fall brings chilly evenings, which often brings the family inside and together. What better way to show your family extra love than with a warm fresh from the garden harvest dinner?!
This meal is very flexible based on your family's taste and dietary restrictions. You can skip the meat in the recipe to make it a vegetarian dinner. Adding cooked pasta of your choice to the pan after everything is cooked with some butter and parmesan cheese is way to extend the meal for more guests or a way to change up your leftovers. You can also skip the chicken and throw some fried eggs on top to make it a breakfast meal. Get creative and have fun using your fall harvest for this yummy hash!
Servings: 6
Ingredients:
½ teaspoon kosher salt
¼ teaspoon chili powder
¼ teaspoon dried sage
Pepper to taste
3 large garlic cloves largely chopped
Quarter of a yellow onion chopped
½ one whole Butternut Squash; peeled, seeded and cubed
1 bunch kale, leaves torn and stalks discarded (substitution: spinach)
1 red pepper chopped
¼ cup Chicken broth (use vegetarian broth for a vegetarian version)
4 bacon slices chopped (omit the meat for a vegetarian version and use olive oil for sauteing instead of bacon grease)
3 chicken breasts cubed (omit the meat for a vegetarian version)
Instructions:
Start by cutting up the butternut squash, if you haven't cut one up before, don't worry below are step by step instructions.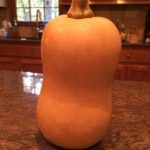 First, wash the squash and use a peeler to peel off the skin.
Second, cut off the top and bottom of the squash.
Third, cut the squash in half length-wise.
Then use a spoon to scoop out the seeds and pulp.
Slice the squash into large slices and then stack them up.
Once stacked cut them into sticks and then dice into small cubes.
Now for the meal:
Chop bacon into chunks and cook in a large pan until crisp on medium heat depending on your stove top.
While the bacon is cooking, chop your onion, garlic, peppers and chicken.
Season the chicken with light salt and pepper.
Once the bacon is done cooking, remove the bacon but leave the grease and add the chicken. Cook for 3-5 minutes until cooked through and remove from heat.
Leave the chicken and bacon drippings in the pan and add the squash on medium high heat. Sprinkle with the salt, pepper, chili powder and sage. Cook for several minutes turning until deep golden brown and tender (but not mushy or falling apart). Remove the squash and let rest on the plate with the chicken and bacon.
In the same pan there should be grease left for cooking, add the onions, garlic, kale and peppers. Lower the heat to medium and sauté for about 2 minutes and then add the chicken broth and continue cooking about 2 or 3 minutes or until onions are translucent and veggies are tender.
Add back the chicken, bacon and squash. Stir to combine. Season to taste and enjoy!