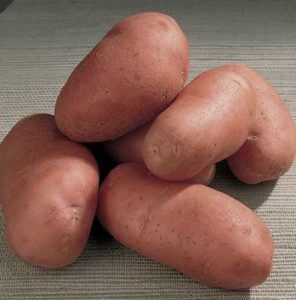 There are a vast range of different planting techniques for potatoes, ranging from deep trenches to containers to surface planting with deep mulching. All of these methods can be effective for growing this easy, nutritious crop.
Regardless of your preferred planting method, preconditioning your seed potatoes before planting will ensure plants get off to a vigorous start and maximize yields. The technique of pre-sprouting potatoes is called "chitting" or "greensprouting".
It is an easy process. Simply spread seed potato pieces out so that they are not touching and keep them in a cool (about 50 degrees F) spot where they will receive natural or artificial light. Some gardeners put the seed potatoes in a warm (65 to 70 degree F) area for a week to 10 days before moving them to a cool, lit environment. Keep them in the light for 2 to 3 weeks, until they produce thick, green and pinkish sprouts. These sprouts are distinctly different from the thin, white, spindly shoots potatoes stored in the dark sometimes form.
Plant greensprouted seed potatoes as you would normally. They will grow quickly and will often be ready to harvest 2 weeks earlier than usual.
Learn more tips on growing potatoes from Jung's Gardener's Corner or email us at info@jungseed.com with your questions. We are happy to help you grow your own delicious healthy potatoes!
---
Allen R. Pyle is the lead horticulturalist at Jung Seed Co. and has been a professional horticulturist for over 20 years, with decades of experience in gardening and landscaping. Allen has degrees in both horticulture and entomology from Michigan State University. He has extensive experience in plant propagation, pest management, growing perennials, and organic gardening. His knowledge spans a wide range of plants, including edibles, ornamentals, herbs, weeds, and native species. Allen is passionate about plants and gardening and is always happy to share his knowledge and expertise with others. He regularly speaks and writes on plant-related topics for both professional and amateur gardening audiences. Allen is also certified in Permaculture design.