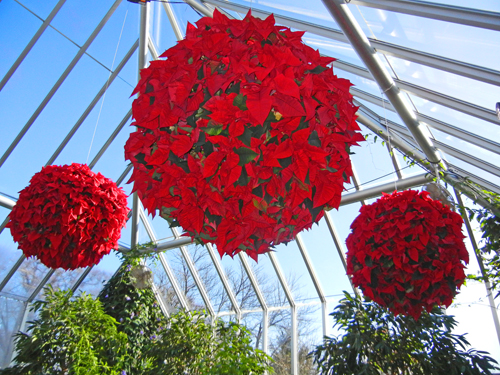 December can be filled with snow and mud – we garden addicts are needing a garden-fix in a bad way. Creating some amazing container gardens to display in a sunny window is a must. Try planting these amazing poinsettia ball containers which I originally spotted at the Chicago Botanic Garden greenhouse.
Make the balls small or large and give your holiday guests something creative to talk about for the holiday season.
How To Make Hanging Poinsettia Balls –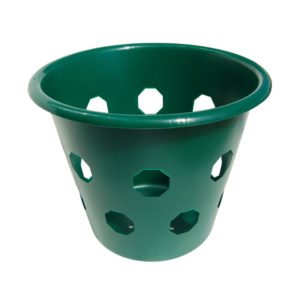 Find or make a garden container that has holes on the bottom and sides (see photo right of an example)
Place poinsettias gently in the container holes.
Fill with container potting soil.
Top with more poinsettias.
Water well and hang.
Happy Holidays! Enjoy the holiday season from all of us at Jung Seed to all of you!!
~~~~~~
Shawna Coronado is a Jung Seed Brand Ambassador and is also an author, columnist, blogger, photographer, and media host with green lifestyle living, organic gardening, and anti-inflammatory culinary who campaigns for social good. Shawna's garden and eco-adventures have been featured in many media venues including PBS television, as well as national radio and news tv. Her successful organic living photographs and stories have been shown both online and off in many international home and garden magazines and multiple books. You can learn more about Shawna at http://www.shawnacoronado.com.