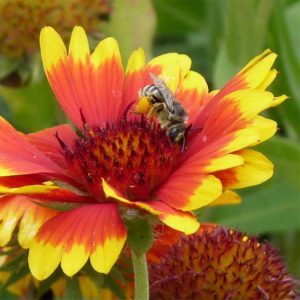 Thank you to everyone who came out to my presentation at the Wisconsin Public Television's Garden Expo over the weekend. I hope that you enjoyed learning more about our pollinators and will create your own pollinator habitat in your garden this season. Please use the link below to access the handout from the presentation and feel free to reach out with any additional questions.
Happy Gardening from all of us at Jung Seed Co.!
---
Allen R. Pyle is the lead horticulturalist at Jung Seed Co. and has been a professional horticulturist for over 20 years, with decades of experience in gardening and landscaping. Allen has degrees in both horticulture and entomology from Michigan State University. He has extensive experience in plant propagation, pest management, growing perennials, and organic gardening. His knowledge spans a wide range of plants, including edibles, ornamentals, herbs, weeds, and native species. Allen is passionate about plants and gardening and is always happy to share his knowledge and expertise with others. He regularly speaks and writes on plant-related topics for both professional and amateur gardening audiences. Allen is also certified in Permaculture design.