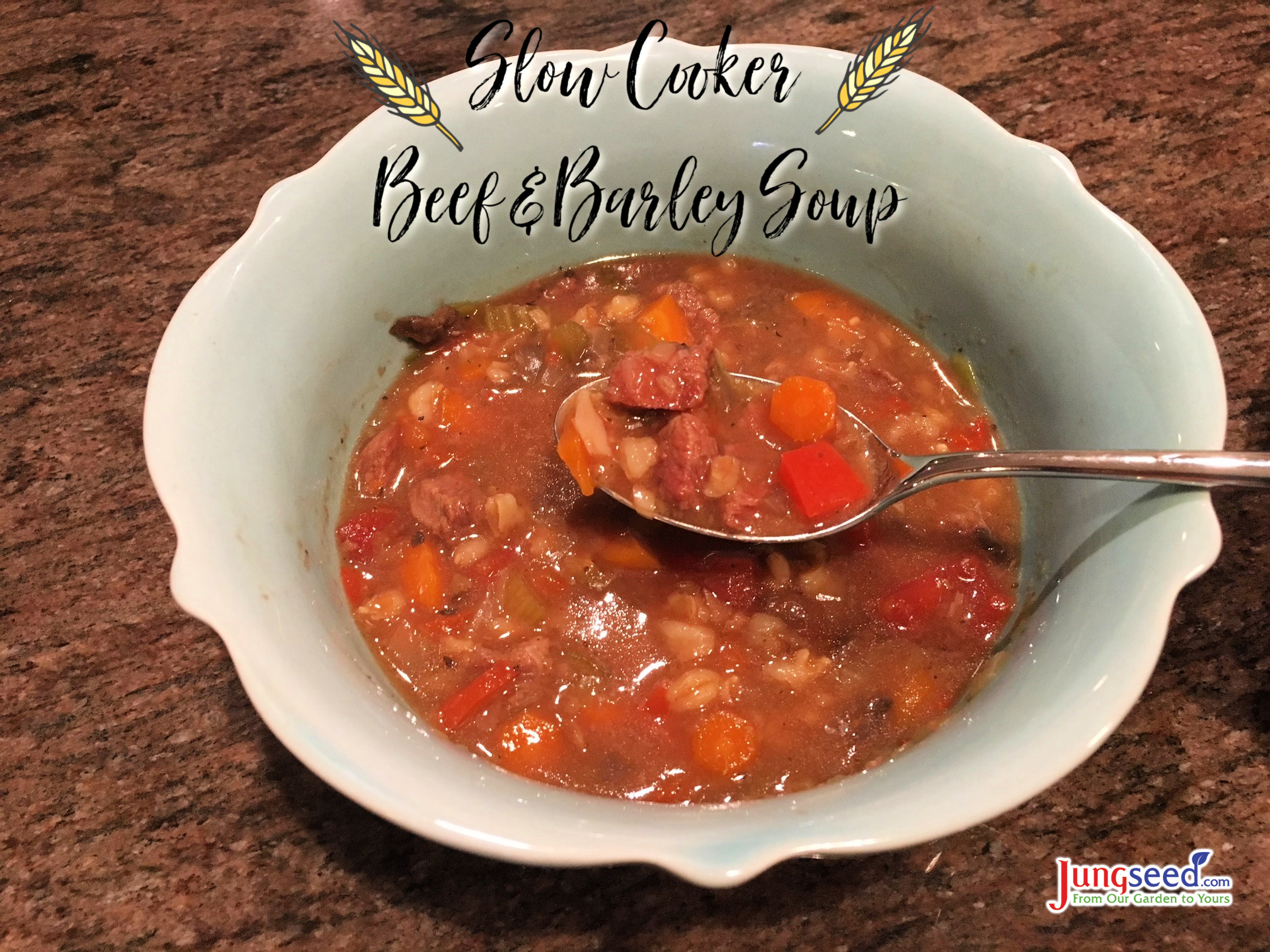 It's slow cooker soup season! This time of year, isn't it wonderful to snuggle up with a warm bowl of comfort food?! The great thing is that this bowl of comfort food can taste good and be good for you!
I love making beef and barley soup in the slow cooker because it uses a lot of fresh vegetables that can be grown in your garden, it's easy and it is a crowd-pleaser. My toddler seems to only like spaghetti and soup these days (things could be a lot worse)! Both meals are probably 2 of the best for hiding lots of healthy vegetables and protein. She gobbles up this beef soup and so does my husband.
The soup can be frozen or made ahead of time. I like to prep all the ingredients on the weekend and throw them together the morning of the day we want to enjoy the soup for dinner.
Feel free to get creative with this soup, if you want to add lentils, cabbage, peas or potatoes or whatever veggies your family likes. Also, the meat is something to choose based on your taste and budget. There are very inexpensive cuts of stew meat and top of the line cuts of beef that can be used. I typically go with grass fed, organic and on sale but do what works best for you and your family. Below are a few options but feel free to grab the pre-cut stew meat to save time too.
Chuck, Chuck Shoulder, Chuck Roast, Chuck-Eye Roast, Top Chuck
Bottom Round Roast, Bottom Eye Roast, Rump Roast, Eye Round Roast, Top Round, Round Tip Roast
English Roast, Pot Roast
This soup will make your entire house smell so delicious you will have the family lining up for dinner time. Add some crusty bread or salad to round out dinner.
Ingredients
1 cup flour
3 tablespoons olive oil
1 (2 lb.) beef stew meat of choice chopped into small bite-size pieces
1 medium onion chopped
2 cloves of garlic minced or crushed
1 red pepper chopped
3 celery stalks chopped
4 chopped carrots
8 ounces whole white button or brown mushrooms chopped
1 cup pearl barley
1 tsp Italian seasoning blend
1 bay leaf
4 cups beef stock
1 teaspoon salt
1/2 teaspoon pepper
28 ounces of chopped fresh tomatoes or 2 cans (14-1/2 ounces each) stewed tomatoes, coarsely chopped
1 tablespoon tomato paste
Instructions:
In a gallon size Ziplock bag mix the flour with a big pinch of salt and pepper then throw in the cubed meat to cover.
Heat the large pan over a medium-high flame and add enough olive oil to coat the bottom of the pain. When the oil is hot, add a single layer of the meat (shaking off access flour) to the bottom of the pan (it is important to not crowd the meat and work in batches).
Sear for 2-3 min per side until golden brown. Once all sides are seared, remove the meat and place in the bottom of the slow cooker. Repeat this process until all the meat is seared. If there is any juice in the bottom of the pan pour it over the meat.
Keep the pan at medium high heat and add the remaining olive oil to the bottom of the pan to coat, if needed add a bit more. When the olive oil is hot, add the onions, mushrooms, carrots, peppers and celery. Once softened add the garlic and sauté until fragrant, about 30 seconds.
Transfer the veggies into the slow cooker.
Add all the stock, tomatoes, tomato paste, barley and spices. If needed add a bit of water to ensure everything is completely covered.
Cook for 7 hours on low. Add salt and pepper to taste.
Enjoy!