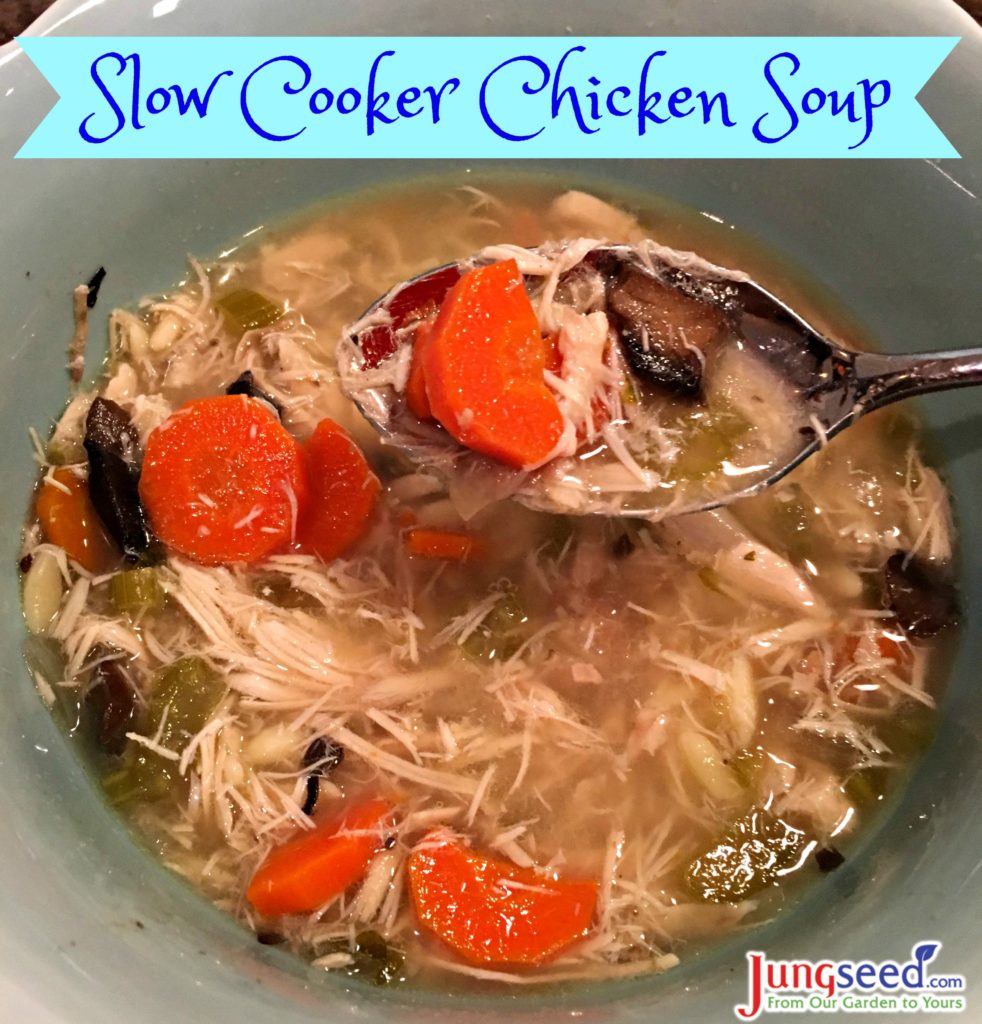 As many parts of our country are still wishing for warm spring weather but dealing with chilly wet weather, we thought it perfect timing to share one of our favorite healthy and delicious comfort soups. Whether you are trying to overcome an awful cold or just want something to warm your bones while waiting for sunny days to find your home, this soup is sure to fit the bill.
This soup is full of nutrient and vitamin rich vegetables, protein and plenty of warm broth. Not to mention, it is easy to make and a crowd pleaser. I made this soup for my husband, last week, who was battling a cold. He and my one year old finished the entire pot within a few short days. While this soup is no magic potion for colds, my husband was quickly feeling better with a big boost to his immune system.  I love soups like this one for children and the rest of the family, as they often contain everything needed for a well-rounded meal in one pot!
This soup is freezer friendly for 2 to 3 months and is just as delicious as the day it was made!
Ingredients: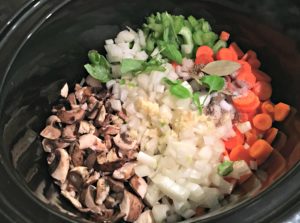 8 cups chicken broth
4 large carrots, cut into 1/4-inch slices
3 celery stalks, cut into 1/4-inch slices
1 cup onion, chopped
2 cups portabella mushrooms chopped
3 garlic cloves, minced
1⁄2 teaspoon dried or fresh thyme
1 sprig of fresh basil, stem removed
1 teaspoon kosher salt (add more to taste)
1⁄2 teaspoon fresh ground black pepper, to taste
1 (3 1/2 lb.) roasting chicken
3 cups orzo noodles, uncooked
*I sometimes add spinach to this recipe about an hour before serving for even more nutritious veggies.
*Parmesan cheese and crusty bread for serving if desired.
Directions
Place all vegetables and seasoning in a 4-1/2 to 6-quart slow-cooker.
Place whole chicken on top of vegetables.
Pour broth over top of the chicken and vegetables and cover with the slow cooker lid.
Cook on low setting 8 to 10 hours or on high 4-5 hours.
Start a pot of boiling water and cook orzo noodles and package directs. Do not add noodles to the soup but instead to individual bowls for serving. * I have found it better to store the cooked noodles separately from the rest of the soup. They tend to absorb the broth, making the soup starchy and mushy. This also allows you to freeze the soup better as the noodles will break apart during defrosting.
Transfer chicken to cutting board. Remove and discard skin, fat and bones from chicken; pull meat apart with your hands and add back to the soup.
Discard bay leaves. Skim any fat from the top.
Serve with crusty bread and parmesan cheese if desired.