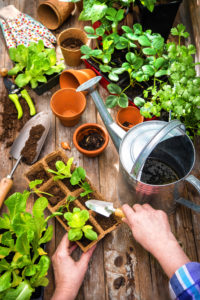 Many people feel intimidated by starting their own plants from seeds. While, growing plants from seed is actually a fairly easy thing to do. All you need are the seeds, containers, seed-starting soil, a light source and water. Starting seeds at home may require a bit more effort upfront but it is well worth the great possibilities!
Watching something you've started from seed grow and develop into food for your body, or flowers to enjoy is satisfying and gives a sense of accomplishment. Here are 3 reasons to start your own seeds this season.
Save Money: There is an initial investment for the seed starting equipment but over time you save a lot of money. One seed packet produces many more plants than buying transplants. Have some fun and save more money by planning which seeds you want with your gardening friends and swap with each other.
Bigger Selection: Growing from seeds provides a much wider selection for your garden. If you like to grow unusual plants, it can be difficult to do so without growing them yourself from seeds. Purchasing seeds allows you to test different varieties that may not be available at the garden centers as transplants. For example, you may have a handful of the most popular pepper plant varieties to choose from at our garden centers, but you can decide from hundreds of pepper seed varieties from our seed racks.

Jung Garden Center is here to help with all of your gardening needs!

Control: Growing your own seeds, gives you the control of what goes into your plants and what doesn't. If you are looking for an all organic garden, you can be sure that from the very beginning, everything that comes into contact with your plants is organic. Also, our greenhouses are regularly checked for quality and cared for by our plant experts. Unfortunately, you cannot always be sure of the quality of plants at every retailer. By starting your own seeds, you have control of quality and can ensure that all the plants you are transplanting into your garden are healthy and strong.
Visit one of our 5 Garden Centers to check out our wide variety of seeds and learn from our expert team about growing healthy seedlings! Please keep in mind that certain seeds are easier to start than others and we are always here to help.
Do you have specific questions related to your garden? Email info@jungseed.com and let our years of expert experience help your garden grow!