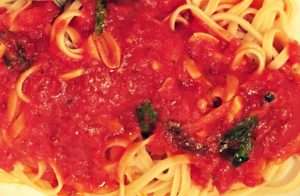 Home-grown tomatoes are one of the best parts of summer! There are a wide variety of tomatoes in abundance this time of year. Let's celebrate those juicy fresh from the garden tomatoes with a recipe that highlights the amazing flavor of the famous San Marzano tomato.
Curious why we use the San Marzano tomatoes over another variety in this recipe? What makes the San Marzano "The" tomato for a perfect marinara is that they have fewer seeds, less water content and a firm flesh that almost dissolves after cooking. The flesh mixes smoothly with the pulp for a more concentrated sweet and tart flavor as well as a thicker sauce.
This marinara sauce recipe is adapted from Lidia's Commonsense Italian Cooking and is one of my go to's for a crowd pleasing, fresh and beautiful meal. It is so easy, healthy and delicious you'll want to make a bunch to store for future meals. Marinara sauce with pasta makes a quick and filling dinner but it also tastes great over zoodles (zucchini noodles), baked with eggs, added to a pot roast, as your homemade pizza sauce, and so many more tasty options! Get creative and put those plump tomatoes from your garden to good use!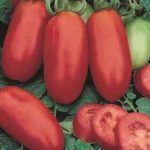 Ingredients:
3 cups fresh San Marzano tomatoes crushed with your hands with juices
1/4 cup fresh Extra Virgin Olive Oil
7 garlic cloves cut into slivers
Pinch of red pepper flakes
1 tsp kosher salt
1 large sprig of fresh Italian Basil
1/4 tsp of dried Oregano
1 cup water
Instructions:
Place tomatoes into a bowl and crush with your hands.
In a large skillet, heat olive oil over medium heat. Once it is hot and shimmering, add the garlic.
Add 1 cup of water, oregano, red pepper flakes and salt to the bowl of tomatoes. Stir.
Once the garlic is sizzling (do not let the garlic brown) add the bowl of tomatoes, water and seasonings. Stir.
Place the basil sprig with the stem on the surface, let it wilt and submerge in sauce. Leaving the sprig allows you to discard the basil before serving. If like me, you enjoy eating basil, feel free to pull the basil leaves off the stem and place them on top of the sauce instead.
Simmer the sauce uncovered until thickened and oil on the surface is a deep orange, about 20-30 minutes. Add salt or oregano to taste.
Another thing that I love about this recipe is that you can grow almost all of the ingredients in your own garden. Basil, oregano, garlic, and tomatoes are so easy to grow, even in the smallest of spaces.
For more tips on growing, harvesting, cooking and storing tomatoes and herbs continue to enjoy our blog posts or feel free to reach out with your questions. We love talking everything gardening!
Mangia Tutti (Everybody Eat)!