We have welcomed a week of mild weather here in Wisconsin while we are hard at work finalizing our 2017 catalog and preparing for next season. We're excited about the upcoming season and are pleased to be able to offer a range of interesting new items to our customers. Here is a sneak preview of a few selected additions for 2017.
Featured New Varieties for 2017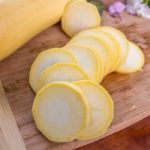 Chiffon Hybrid summer squash is a unique new summer squash with attractive, creamy ivory skin. Its straight fruit develop seeds very slowly, allowing even extra-large fruit to be enjoyed without the need to scoop out seeds! The plants are very productive and are resistant to cucumber mosaic virus.