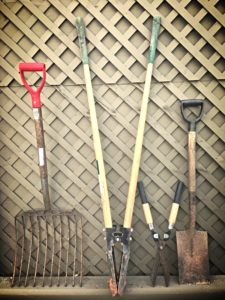 Both leaves and temperatures are falling here in Wisconsin, and it's time for most of the country to think about finishing the of the last garden chores as winter draws ever closer.
Tool Cleanup & Storage
An important fall chore is cleaning and storing tools and garden equipment, to ensure that everything is accessible and ready for use when needed in spring. Proper care of tools will also significantly prolong their useful life.
Wash any soil residue from garden tools or remove it with a wire brush. Remove any rust spots that have developed on metal surfaces with a wire brush, fine grained sandpaper, or steel wool.