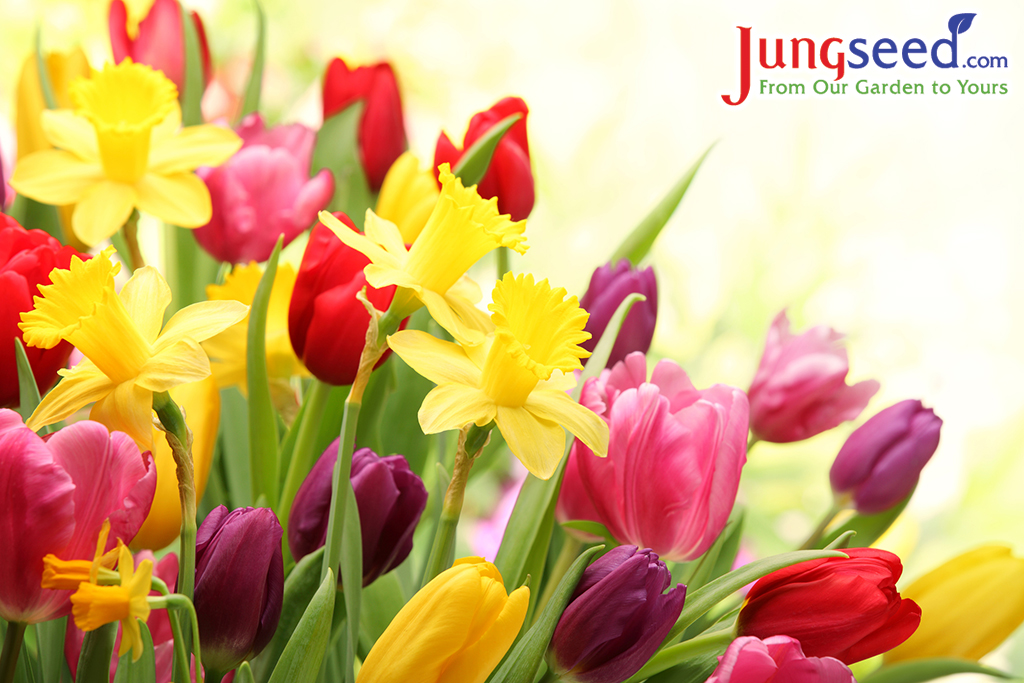 Remember last spring when you spotted beautiful beds of spring tulips, daffodils and hyacinths blooming and you vowed to plant some in your yard? Well—now is the time to decide what you want and get those beauties planted.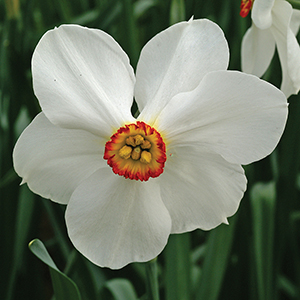 Zone: 3 – 8
The Actaea Daffodil is an heirloom daffodil. It has a wonderful, sweet fragrance. The flowers are brilliant white with petite yellow cups that are rimmed with red and accented by green. Blooming in mid to late spring they are the perfect addition to your flower garden.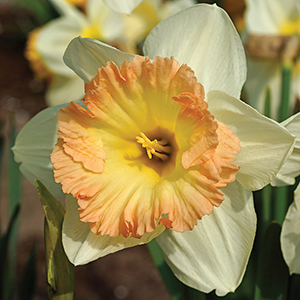 Zone: 3 – 8
The British Gamble Daffodil is considered a "pink" daffodil. The outfacing blooms a large and white with a lemon yellow ruffled trumpet that gradually turns apricot colored as it matures. This daffodil will add a nice variety to your mid-spring landscape.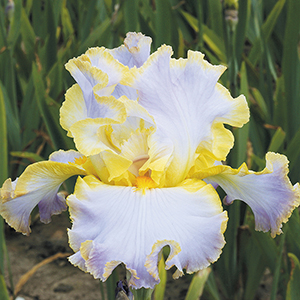 Zone: 3 – 9
The All About Spring German Iris is enormous! Its 7 1/2″ light lavender blooms are heavily ruffled banded with golden yellow. The golden-orange beards have a light fragrance. It blooms mid to late season and is sure to be a crowd-pleaser.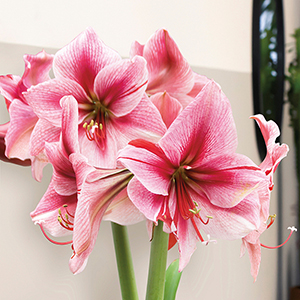 Zone: 8 – 11
The Gervase Amaryllis is not your typical amaryllis color. Its blooms are soft pink with striations of white and deep, magenta-pink. This amaryllis grows to be 20 to 24-inch tall and blooms 6 to 12 weeks after planting. This stunning flower is a perfect addition for the holidays.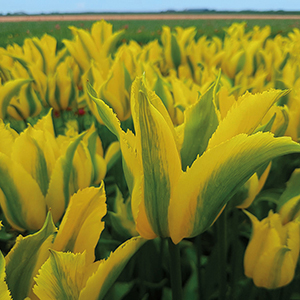 Zone: 3 – 7
The Green 'n Gold Tulip is uniquely colored. It has golden-yellow blooms with broad green flames which creates a wonderful two-tone display. Blooming in late spring, this viridiflora tulip grows 20-inch tall. It is quite long-lasting both in the garden and in cut flower bouquets.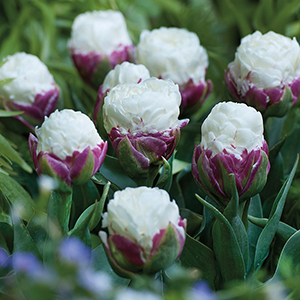 Zone: 3 – 7
The Ice Cream Tulip is a delightful addition to the mid to late spring garden. When in bloom, these large 4-inch flowers look like a creamy scoop of vanilla ice cream sitting in a bowl made from rosy pink petals. As the flower matures, the white layers open up into a peony-like bloom. This exotic-looking tulip is sure to be a show stopper.
Padded Shoulders German Bearded Iris
Zone: 3 – 9
The Padded Shoulders German Bearded Iris has an elegant color with a spicy perfume smell. Its broad, apricot-peach falls fade to cream toward the center and are accented with brilliant orange beards. The creamy white, heavily ruffled standards are infused with just a hint of peach that radiates from the center of the bloom. This iris grows to 41-inches and blooms in late midseason.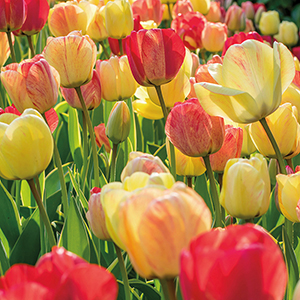 Zone: 3 – 7
The Silverstream Tulip has big blooms ranging in color from light yellow to deep yellow, with or without red feathering, to red with creamy feathering. Its rich green foliage is edged with white which enhances the appearance of the flooms. This tulip grows 20 to 22-inches and blooms mid-spring. They are reliable long-lasting flowers you are sure to enjoy.
Zone: 8 – 11
The Splash Amaryllis is a gorgeous, double-flowered variety. Its large blooms have multiple layers of bright red petals that have a broad white stripe radiating from a green-eyed, white center creating a starburst pattern. This amaryllis grows to be 20 to 24-inch tall and blooms 6 to 12 weeks after planting. It is guaranteed to be a favorite among gardeners.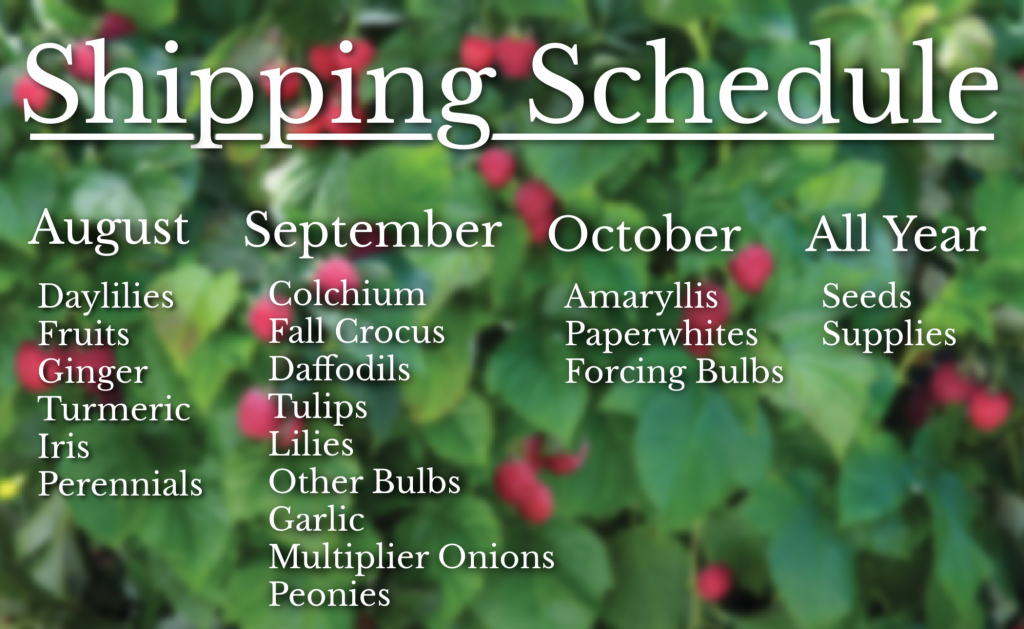 It's time to start picking out your fall bulbs for beautiful spring-blooming flowers. Jung Seed has a wide variety to choose from. Get your orders in soon while supplies last.
View our new Summer/Fall catalog online or browse our website for all of your gardening favorites. To receive info on new products, exclusive deals, and specials, be sure to sign up for our weekly email. Join our Facebook page, to discuss all things gardening!