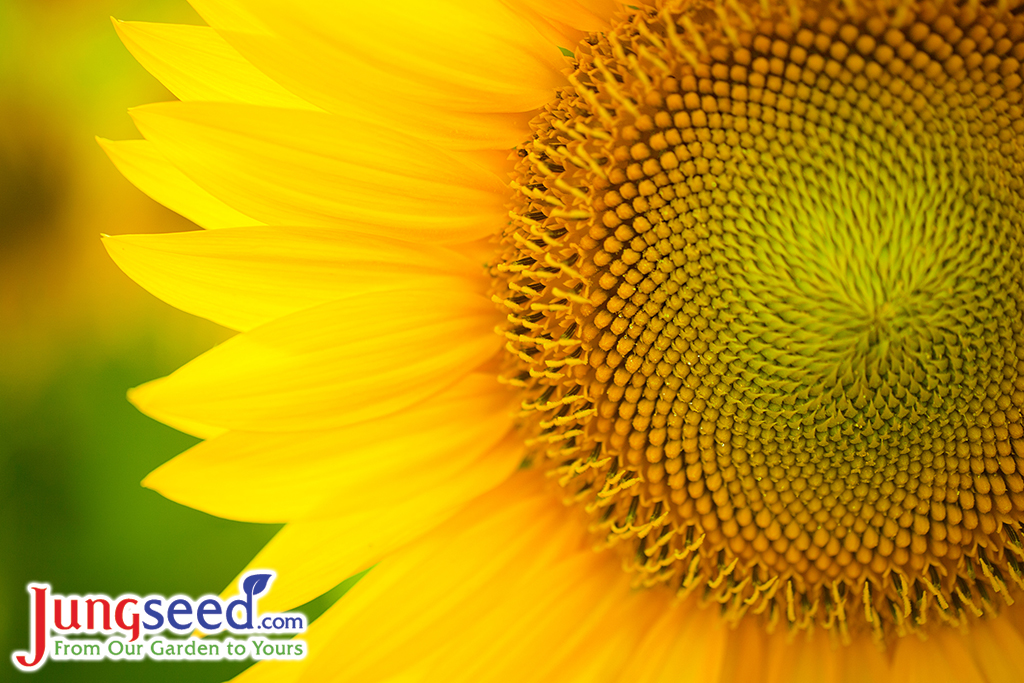 Sunflowers are popular, easy-to-grow annual flowers. They make good landscape and container plants and are excellent cut flowers. Varieties are available in a number of heights, colors, flower sizes, and flower forms, so they can be used effectively in a range of ways in the garden and landscape. Although most sunflowers are grown as ornamentals, they also produce edible seeds relished by birds, and some varieties are grown primarily for their seeds.
There has been increasing interest in growing sunflowers as cut flowers and flowering potted plants for weddings. Because they are easy-to-grow and reasonably fast to bloom, sunflowers make an excellent choice for producing home-grown wedding displays.
Growing Sunflowers From Seed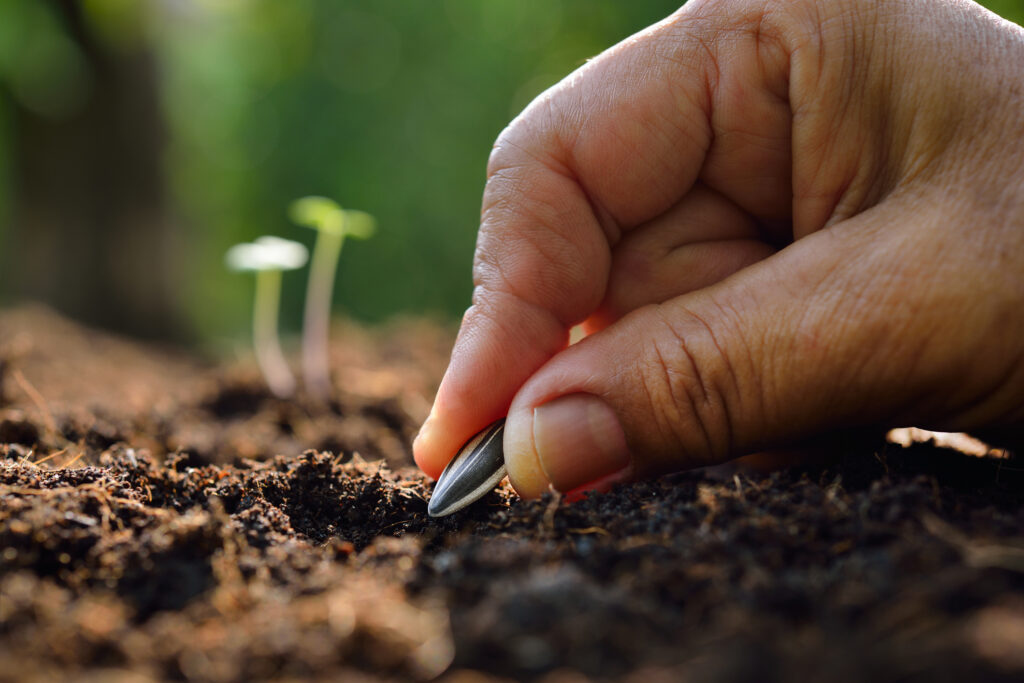 Sunflower seed can be sown outdoors directly in the garden or in pots after the danger of frost has passed in spring. Dwarf sunflowers can easily be grown to flower in pots as small as 6 inches in diameter. Taller varieties can be grown in 3 to 5 gallon or larger sized pots. All pots should have drainage holes for sunflowers to be successful.
Seeds can also be started indoors 2 to 3 weeks before the last spring frost. Use a 2 1/4 inch container or larger to ensure sunflower seedlings don't become root bound before they are transplanted to the garden. Seedlings can be transplanted 1 to 2 inches deeper than they were growing in the pots, to help ensure plants are sturdy and stem do not flop.

Plant sunflower seed about half an inch deep and keep the soil moist until seeds germinate, usually in 5 to 7 days, but sometimes germination may take 10 to 14 days. Germination is fastest when soil temperatures are between 70 and 86 F. Usually 2 to 3 seeds are planted in groups and seedlings are thinned to just the strongest plant after germination. Sunflowers grow best in full sun and have moderate fertility needs.
Spacing can affect flower size, with smaller flowers produced when plants are grown closely together. Space compact varieties 6 to 12 inches apart in rows and taller varieties 12 to 18 inches apart, with 18 to 36 inches between rows.
Scheduling Sunflowers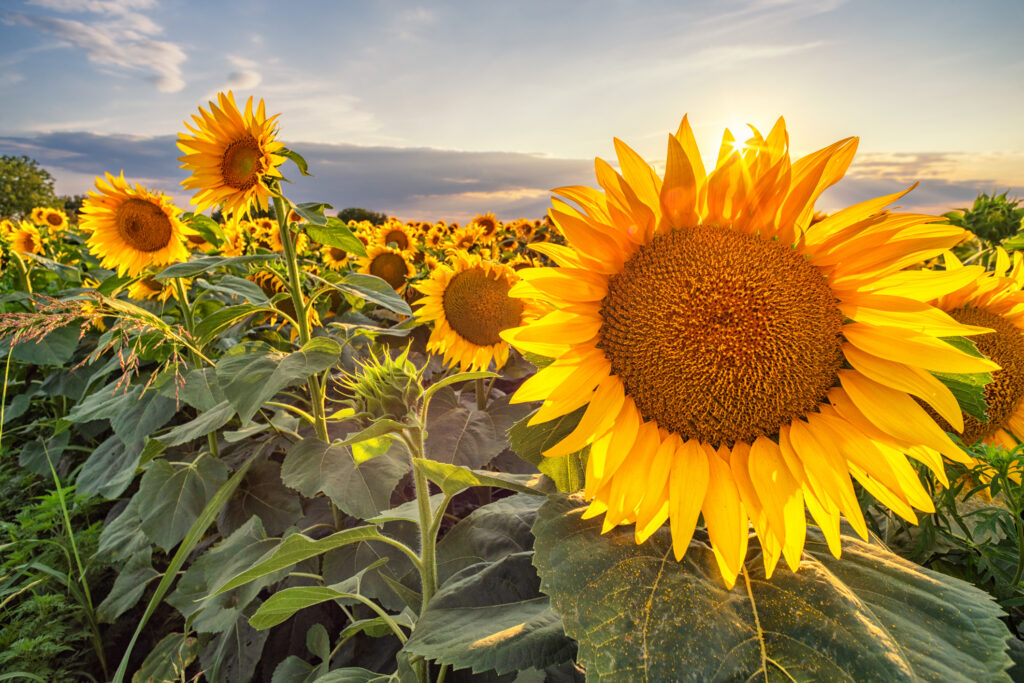 Time to flower from sowing varies among different sunflower varieties. Taller varieties tend to take more time to bloom than shorter, dwarf types. Hybrids usually flower more quickly than open-pollinated (OP) varieties. Temperature and day length (photoperiod) can also affect how quickly sunflowers bloom.
When growing sunflowers to bloom for a particular date, it is helpful to make multiple sowings spaced one to two weeks apart and based on the expected days to flower for each variety. This helps to extend the flowering window and will maximize the chances that plants will be flowering on the desired day.
"Topping" (removing the tip of the main stem) when sunflowers have 4 to 6 true leaves, can promote branching and result in more flowers per plant but will delay flowering by a week or two. This is most effective for varieties that naturally have a branched, multi-stem habit. Topping some plants can also help to extend the flowering window, as an alternative to or in combination with making multiple sowings.
Caring For Cut Sunflowers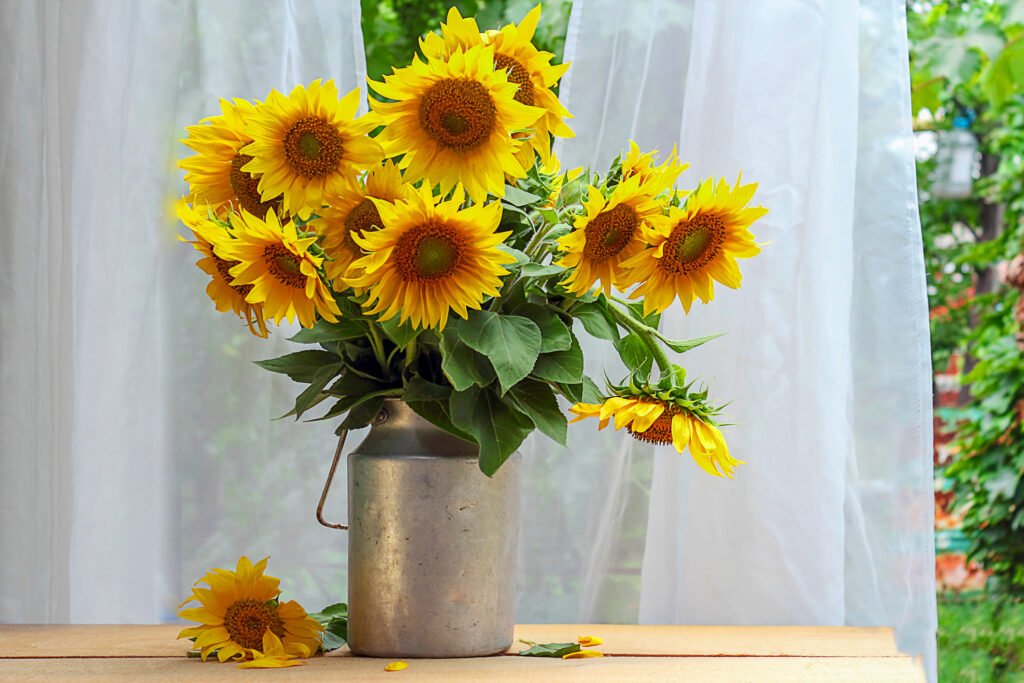 For cut flowers, harvest sunflowers when the flowers are just beginning to open. Cut them in the morning after the dew has dried and immediately put the cut stems in water. Soon after harvest, remove the lower leaves from the stem and re-cut the stems while they are still underwater. Change the water in the vases every other day for the best vase life. Cut sunflowers typically last for 5 to 7 days, but pollen-free varieties can last for up to two weeks.
Pollen-Free Sunflower Varieties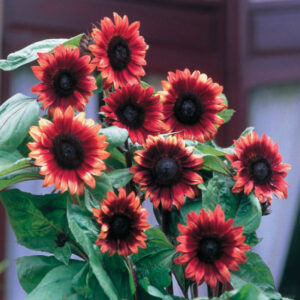 Some hybrid varieties of sunflowers have been bred to be pollen-free. That is, their flowers do not produce any pollen and they will only produce seed when grown near varieties that do produce pollen. Pollen-free varieties are produced through conventional breeding and are not genetically modified plants (non-GMO). The reason breeders have developed pollen-free varieties is that cut flowers and flowering potted plants of pollen-free varieties last longer and are less messy than varieties with pollen.
Some of our favorite pollen-free sunflower varieties are:
Short Sunflower Varieties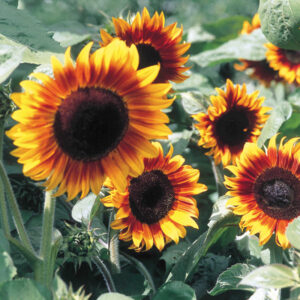 Compact-growing, dwarf sunflower varieties are the easiest to schedule, as they flower quickly and can easily be grown in pots. They typically reach just 2.5 feet tall or less.
Some of our favorite short sunflower varieties are:
Tall Sunflower Varieties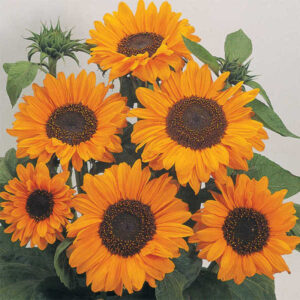 Tall sunflowers typically grow 4 feet tall or larger, and some can reach 6 feet or more in height. They generally take longer to flower than dwarf types, though some hybrid varieties flower quite early.
Some of our favorite tall sunflower varieties are:
Sunflowers are North American native plants. Many produce nectar and pollen are attractive to beneficial pollinating insects.

Join Jung Seed in celebrating Pollinator Week June 22 – 28, 2020! Enjoy 10% off your order with discount code 10BEE20 at check out. Valid during Pollinator Week.