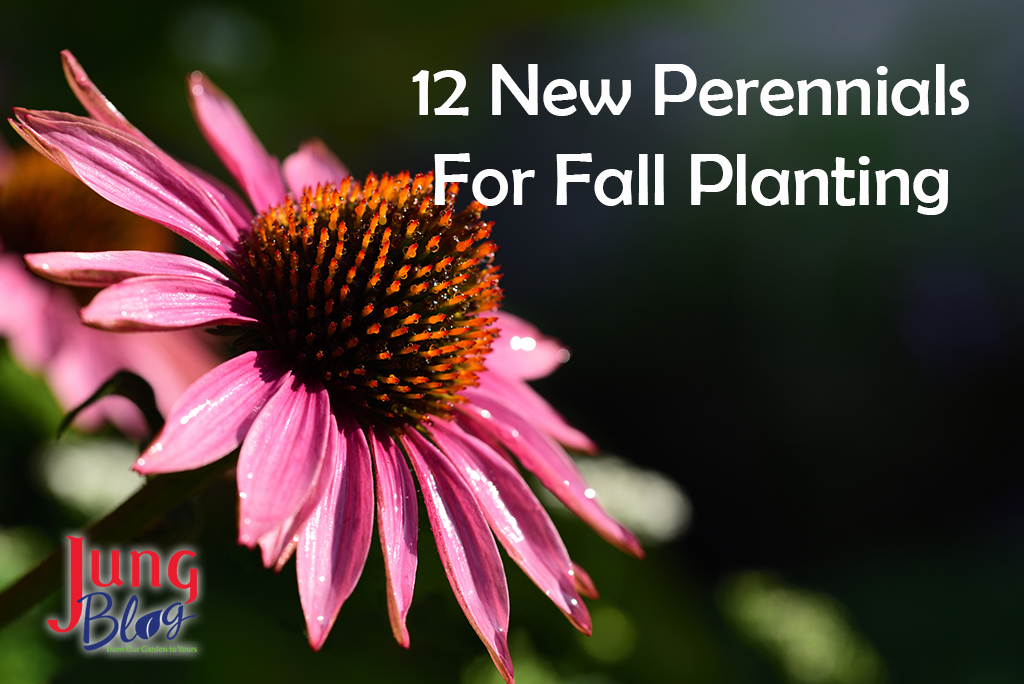 Perennials are a wonderful way to add color and texture to your garden. As the weather begins to get cooler, you still have time to plant perennials so they can bloom come springtime. We have some exciting new fall perennials available for fall 2021. Here is a list of some of our favorites.
The Artful Accents Mixed Allium is a delightful mix of three different colors! Enjoy baseball-sized, coordinating blooms in white, lilac-purple, and dark violet-purple. All bloom late to very late in the spring season and grow 24 to 48 inches tall. (Zone 3-8)
Astilbes are some of the most colorful perennials for shade. They are easy-care plants that display colorful masses of feathery flower spikes for weeks in midsummer. Purple Candles have violet-red plumes that lighten as they age. Plant in soil that is rich, moist, and well-drained. Grows up to 42″ tall. (Zones 4-9)
The Barbara Mitchell is a popular and highly awarded re-blooming daylily. The glistening soft pink 6-inch blooms are lavishly ruffled, with thick substance and raised veins providing an interesting corduroy-like texture. It begins blooming in midsummer with excellent repeat through the rest of the season. Grows 22 inches tall. (Zones 3-9)
Bridal Veil is easy to care for and displays colorful masses of feathery flower spikes for weeks in midsummer. Lacy, white panicles bloom in early summer. Plant in soil that is rich, moist, and well-drained. Tolerates full sun. 28 to 32 inches tall. (Zone 4-9)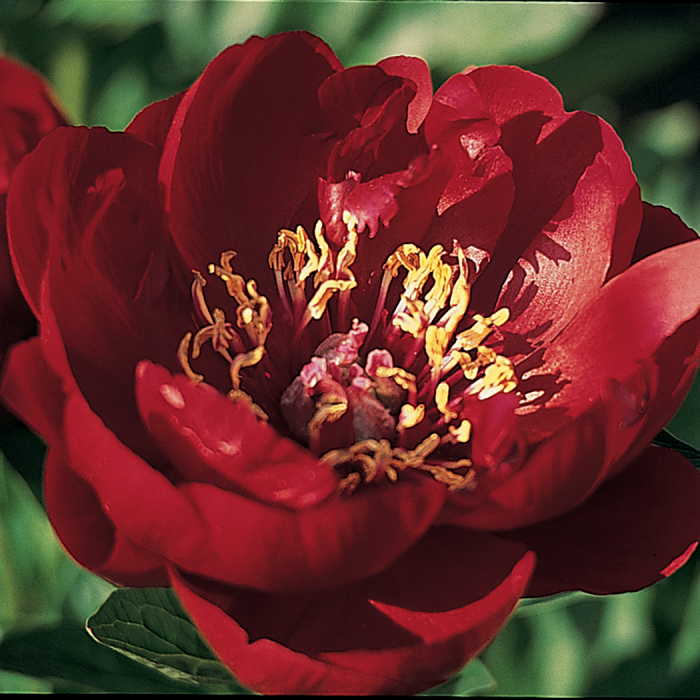 The Buckeye Belle Peony has a unique chocolate red coloration. The semi-double, deep red petals of the peony contrast nicely with their yellow staminodes. Sturdy stems make this one of the best for cut flowers. Free flowering plants bloom early in the season. 30″ tall. (Zones 3-8)
The Cara Mia Yellow Echinacea are compact coneflowers that are blooming machines! Robust, heavily branched plants are filled with deep green foliage and grow only 16-18″ tall. These petite plants have major flower power. They begin blooming early in the summer season and keep producing their brilliant lemon yellow double blooms all the way until frost. Dark green foliage contrasts nicely with the blooms. Grows 16 to 20 inches tall and up to 30 inches wide. (Zones 4-9)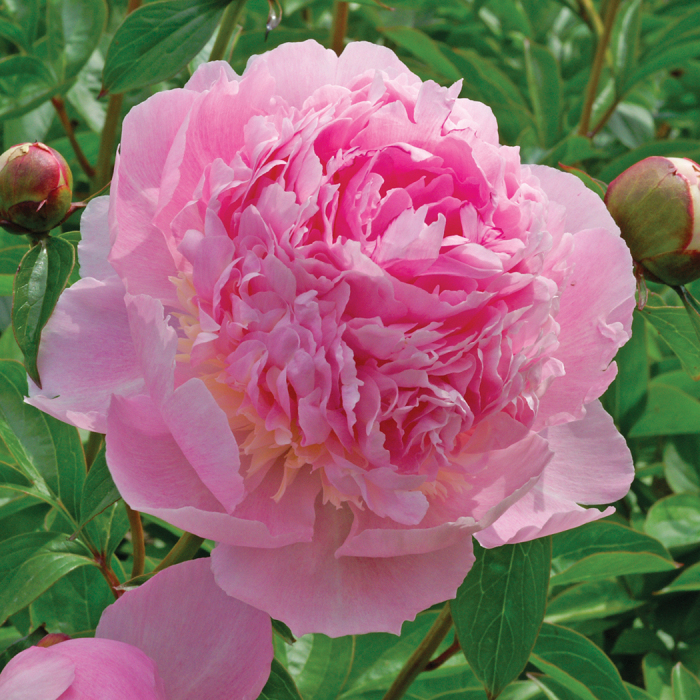 Expect huge blooms with fantastic, rose-like fragrance from Eden's Perfume Peony. Fully double, bomb-type, rosy pink flowers measure up to 7 inches across and emit a wonderful rose-like scent. Midseason. 30″ tall. (Zones 3-8)
Great Expectations Hosta lives up to the hype of its name. Thick, slug-resistant leaves have a wide, blue-green margin and an interesting, color-changing center that begins chartreuse in spring and fades to light yellow or white through the season. Green streaks add variation to the pattern and give each leaf a different look. Plants grow 20″ tall and up to 40″ wide, bearing white flowers in early to midsummer. A slow grower, but well worth the time and patience. (Zones 3-9)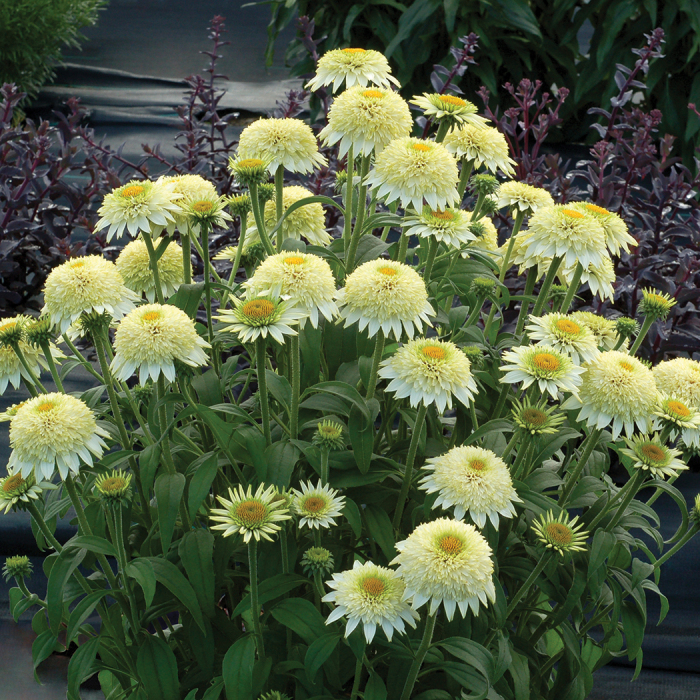 The Puff Vanilla Echinacea begins blooming early and continues until frost. Compact plants have a low, mounding habit and excellent branching which results in multitudes of blooms all season long. The double pom pom blooms are light yellow with white ray florets and darker yellow centers. Grows 18-22″ tall and up to 24″ wide. (Zones 4-9)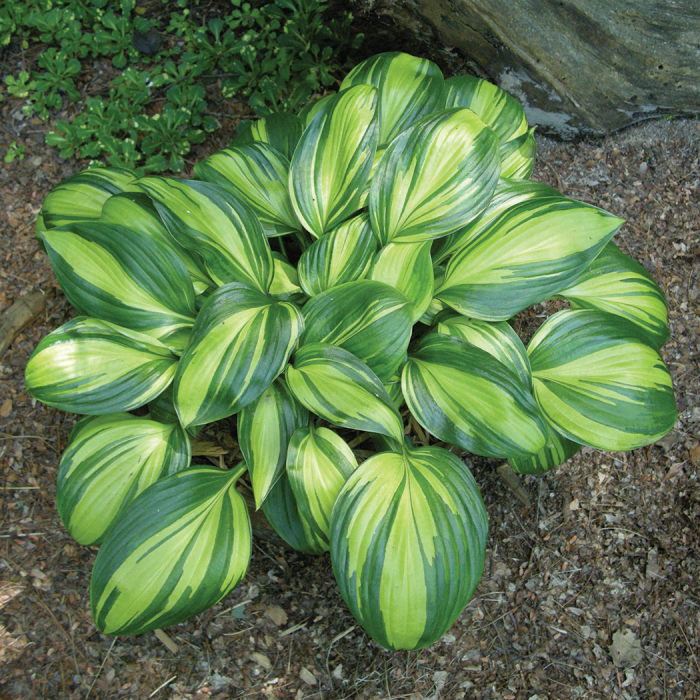 2021 Hosta Of The Year! No two leaves look alike on this shiny, colorful creation. Chartreuse yellow leaves lighten to creamy white in summer and have deep green, variable margins that jet into their centers. Eye-catching, red floral stems appear in midsummer and bear dark lavender blooms above the foliage. Grows 11 inches tall and up to 21 inches wide. (Zones 3-9)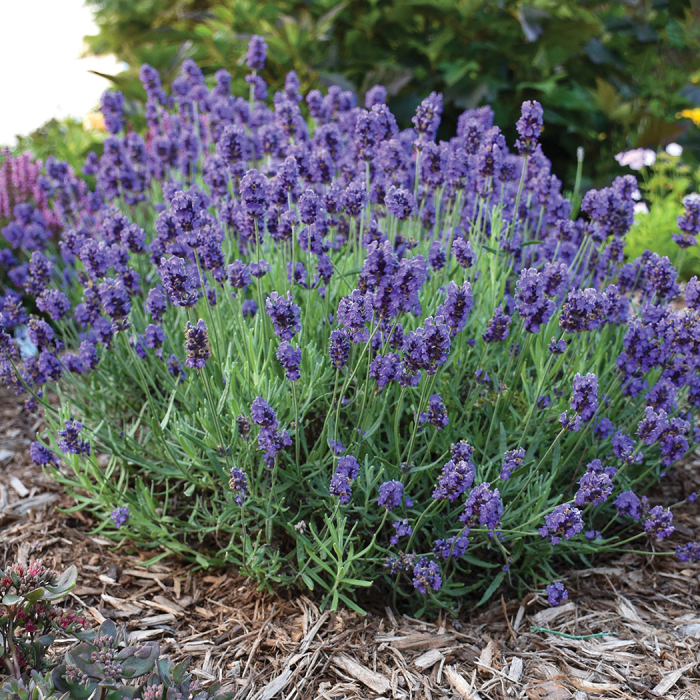 The Sweet Romance Lavender begins blooming in early summer which is earlier than other lavenders. Its blooms are larger, leading to better color impact in the landscape. Fragrant, grey-green foliage forms compact mounds. 12 to 18 inches tall and wide. (Zones 5-9)
Sure to be a winner in your garden, the Price Is White Echinacea has bright white, 5 inch, single blooms that add a nice cooling element to mixed perennial plantings. They look especially magical at night when they glow in the moonlight. Plants grow 20 to 22 inches tall and offer loads of blooms beginning in midsummer. (Zones 4-8)
Other Recommended Reading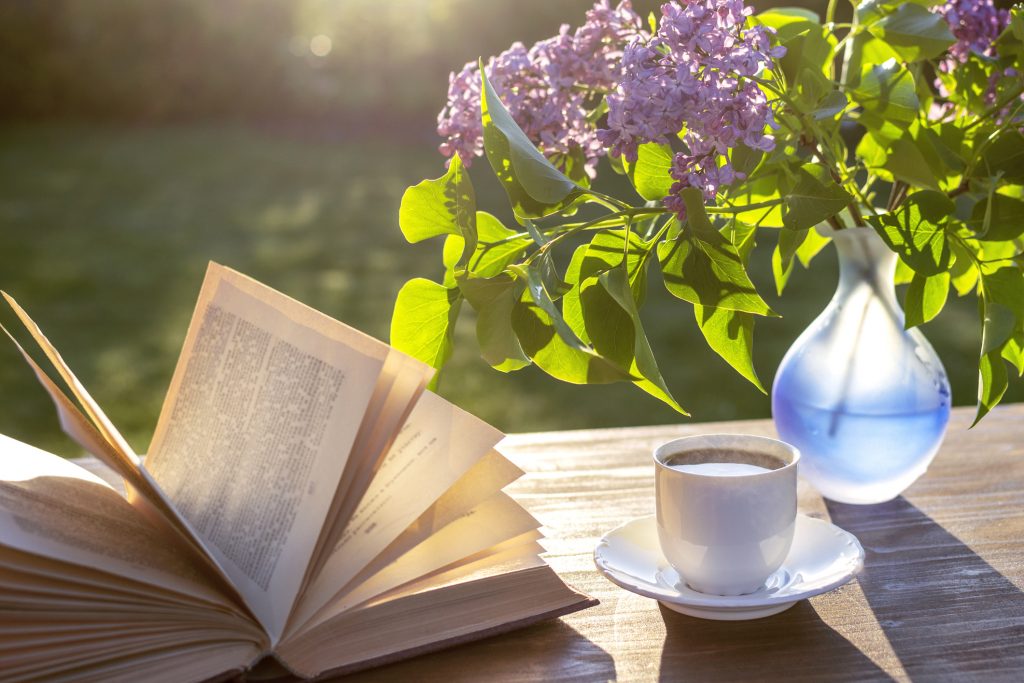 At Jung Seed Co, we strive to be your go-to guide for all your gardening needs. Our YouTube channel Jung Garden Center has a variety of videos where our experts provide gardening tips for all levels of gardeners. When you need reliable gardening advice, turn to the trusted experts at Jung.
If you are in the Wisconsin area, please visit us at one of our Jung Garden Center locations for all your gardening needs. Otherwise, you can browse our website. To receive info on new products, exclusive deals, and specials, be sure to sign up for our weekly email. Join our Facebook page, to discuss all things gardening!