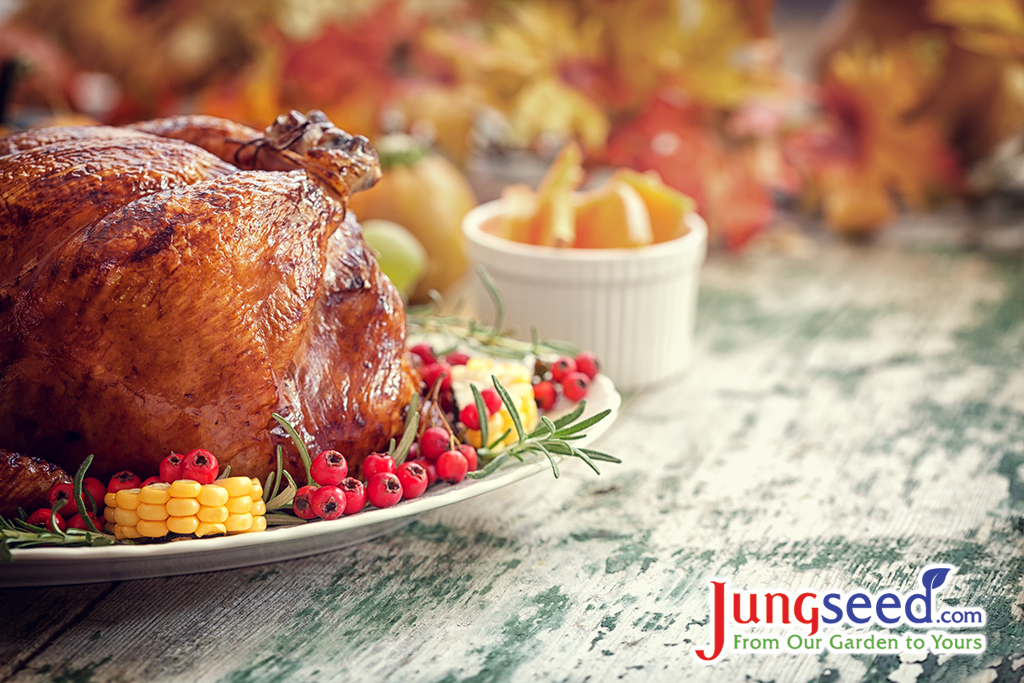 There is nothing like the smell of Thanksgiving dinner filling your home. The comforting aroma brings back memories of holidays long past and creates an eagerness to share in a delicious meal. Whether it is an herb-rubbed turkey or parsley sprinkled mashed potatoes or sage and thyme stuffing; fresh herbs take your meal to the next level. They add fragrance, flavor, color, and make a beautiful garnish for a show-stopping feast.
Instead of rushing to the market to find what you need, wouldn't it be nice to grow your own indoor herb garden to use for Thanksgiving and many meals to come? Fresh herbs can make every dish more special. Growing herbs indoors is easier than you may think. Here are some helpful tips…

Starting An Indoor Herb Garden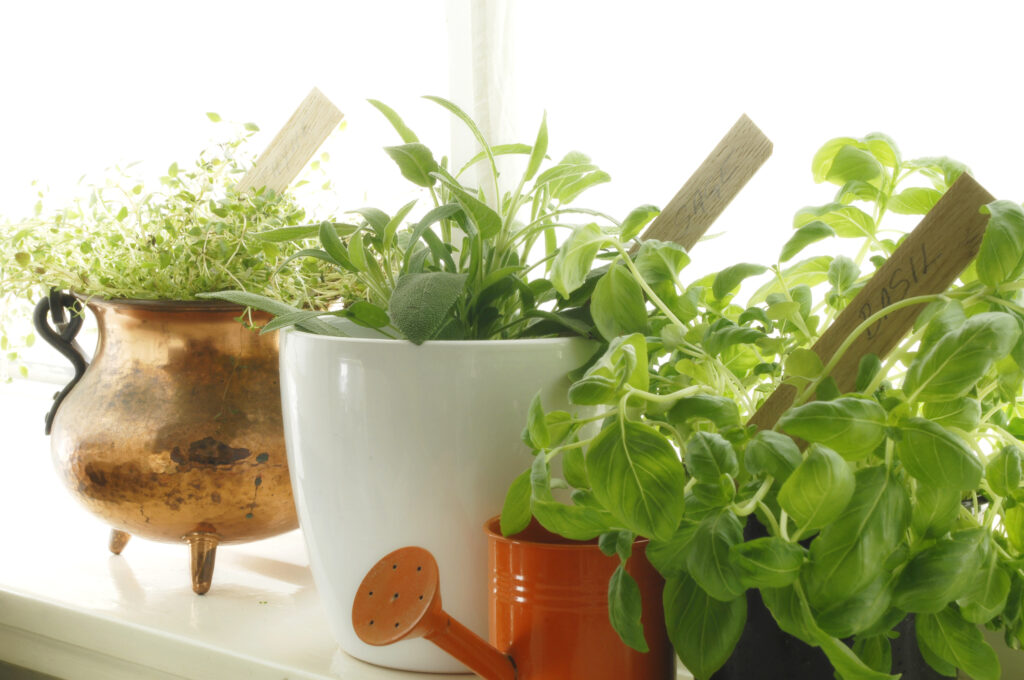 If you haven't already moved a selection of your herb garden indoors for the winter, now is a perfect time to divide and transplant some fresh herb plants from your own garden. If you do not have an outdoor herb garden, stop by our garden centers, to pick up some conveniently available herb plants, pots, and soil.
Pots Matter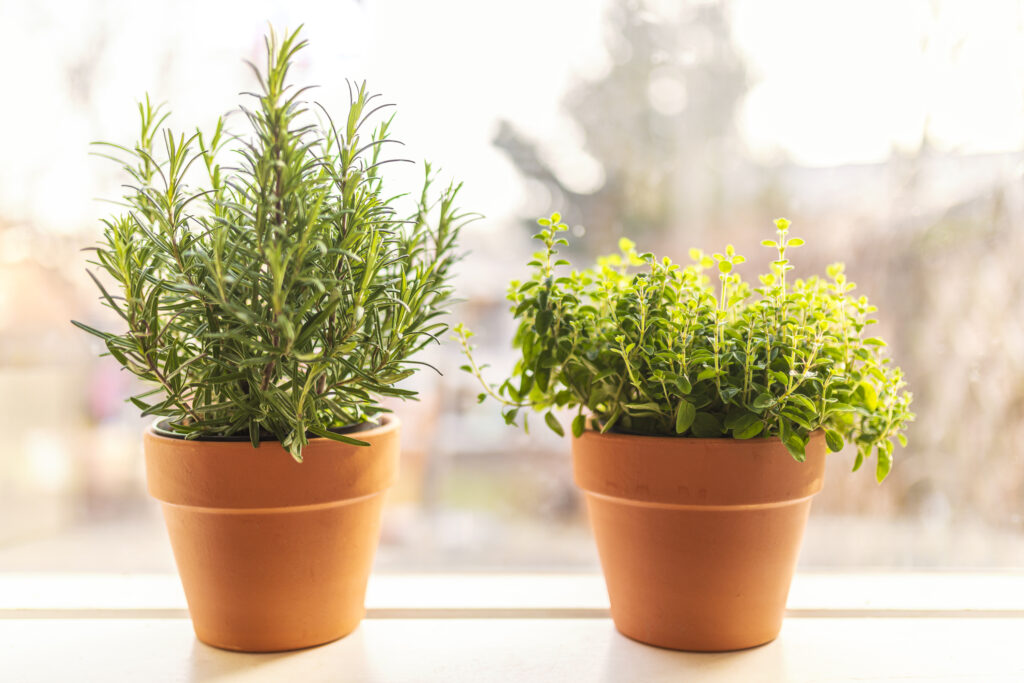 If you live in a humid climate, choose pots made of natural clay. Clay pots will breathe better to help stabilize soil moisture. If you live in a dry climate or northern climate with dry, furnace air during winter months, herbs may perform better for you in glazed or plastic pots that help retain valuable soil moisture. Either way, proper drainage holes are critical for herbs, as is well-draining fresh, healthy soil.
If you are a patient and committed gardener, you can also start herbs from seed and have them available throughout the cooler season. Germination of herb seeds is straightforward and follows similar techniques as growing other vegetables from seeds, but herb seed germination is a generally slower process. The specifics of which you will find below under each herb type description. Growing herbs indoors freshens the air, brightens our spirits on gray days, and home-grown herbs pack a more flavorful punch than cooking with dried herbs.
4 Favorite Holiday Herbs To Grow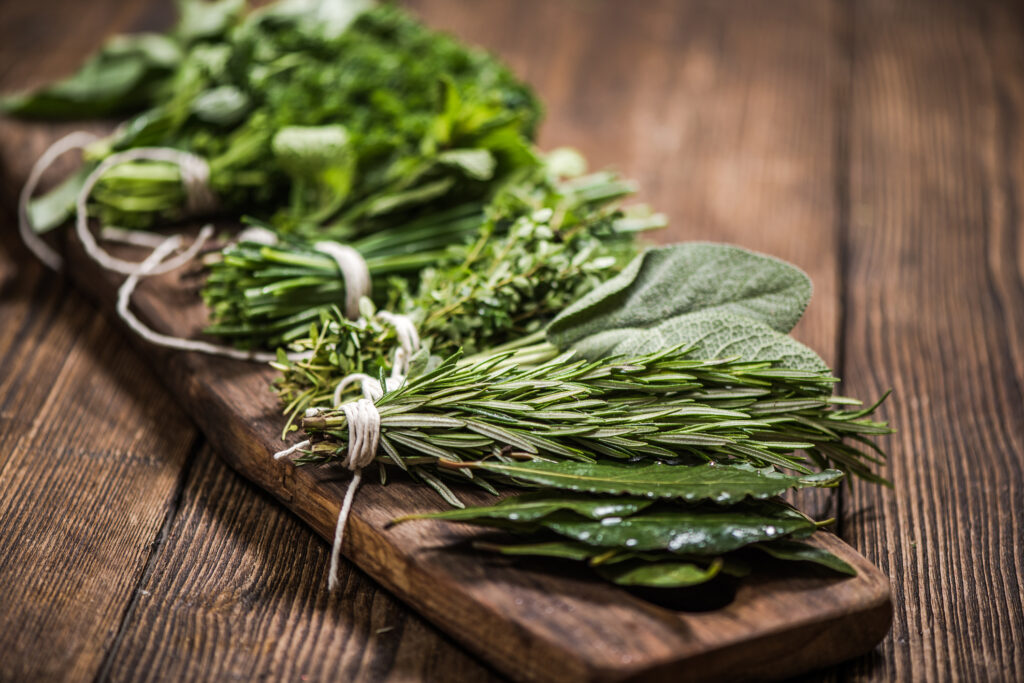 The most commonly used herbs and spices for Thanksgiving and other cold-weather holidays are parsley, sage, rosemary, and thyme. Luckily, these herbs are easy to grow indoors in containers. These herbs do not take up a lot of space and can be beautiful on display by a kitchen window, as natural table centerpieces, or as table place settings for the holidays.
Parsley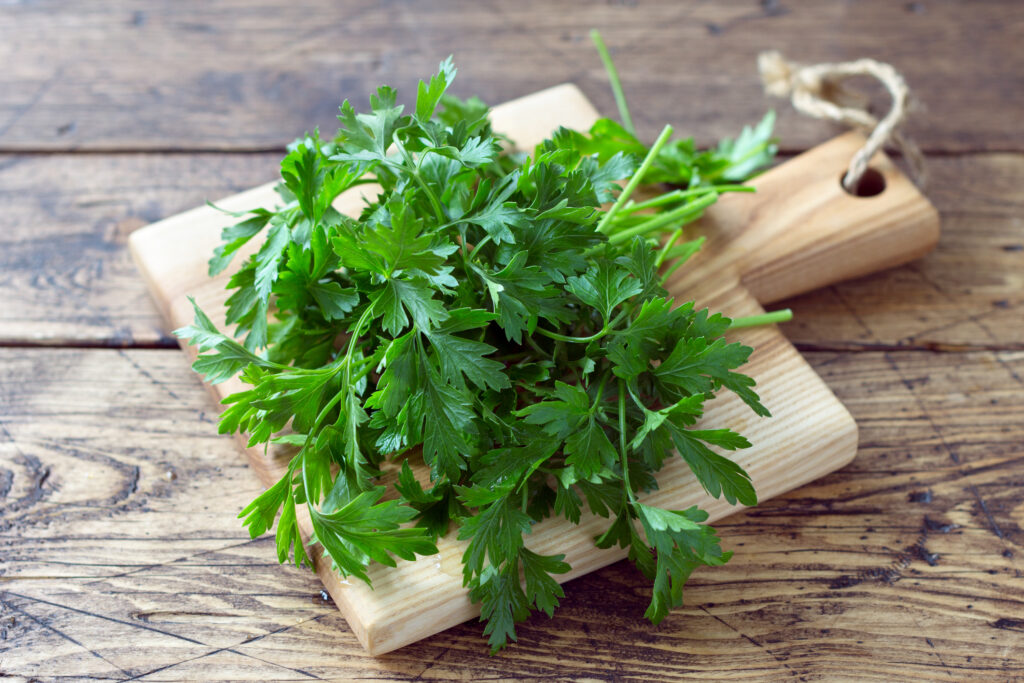 Parsley is an all-purpose herb that is said to enhance other flavors and adds a fresh delicate flavor to your dishes. It can be used in soups, sauces, vegetables, and more. Sprinkle parsley on top of your dishes as the perfect final touch for bright green color and fresh flavor.
Parsley Growing Tips
It's best to start parsley from seeds sown directly in the container because parsley has a long taproot that doesn't transplant well. Place a few seeds on the surface of the soil and press them down gently to make good contact with the soil. Because parsley seeds are small there is no need to cover them. Seeds will germinate more quickly when the soil temperature is maintained evenly at 75°F. Parsley grows best in a bright sunny window where it will receive 6-8 hours of sunlight daily. Turn the pot every three to four days so it doesn't lean into the sun. Keep the soil lightly moist and empty the saucer under the pot so the roots do not sit in water.
Sage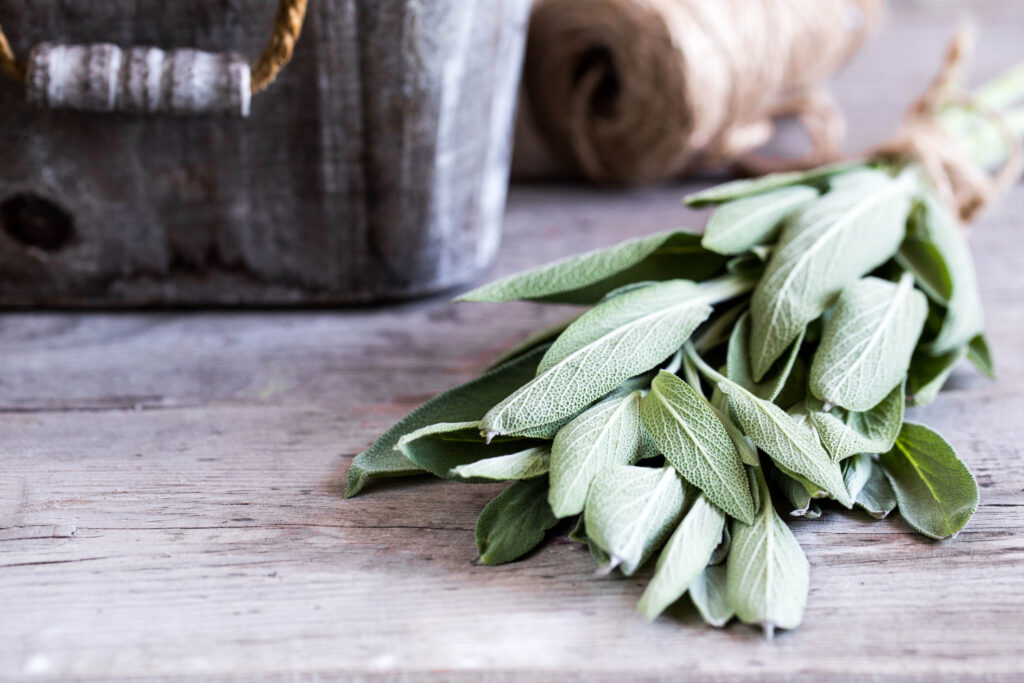 This easy-to-grow herb has a strong distinct flavor and earthy aroma. It is a must-have for Thanksgiving turkey and stuffing but also works well in stews, pasta, and other poultry dishes. Fast frying whole sage leaves in EVOO and sprinkled with sea salt is a delectable treat or garnish.
Sage Growing Tips
Germination of Salvia officinalis is simple if seeds are lightly covered, kept evenly moist with soil temperature between 70° to 75°F. It can take 7 to 14 days though so be patient. As a Mediterranean native plant, this hardy perennial craves full sun and well-draining soil. Water as needed, letting the soil dry out between watering. Make sure the plants are in a warm area, away from drafts. Sage plants appreciate humidity, so add a nearby pebble tray or humidifier. Growing sage with other herbs in pots nearby will also help.
Rosemary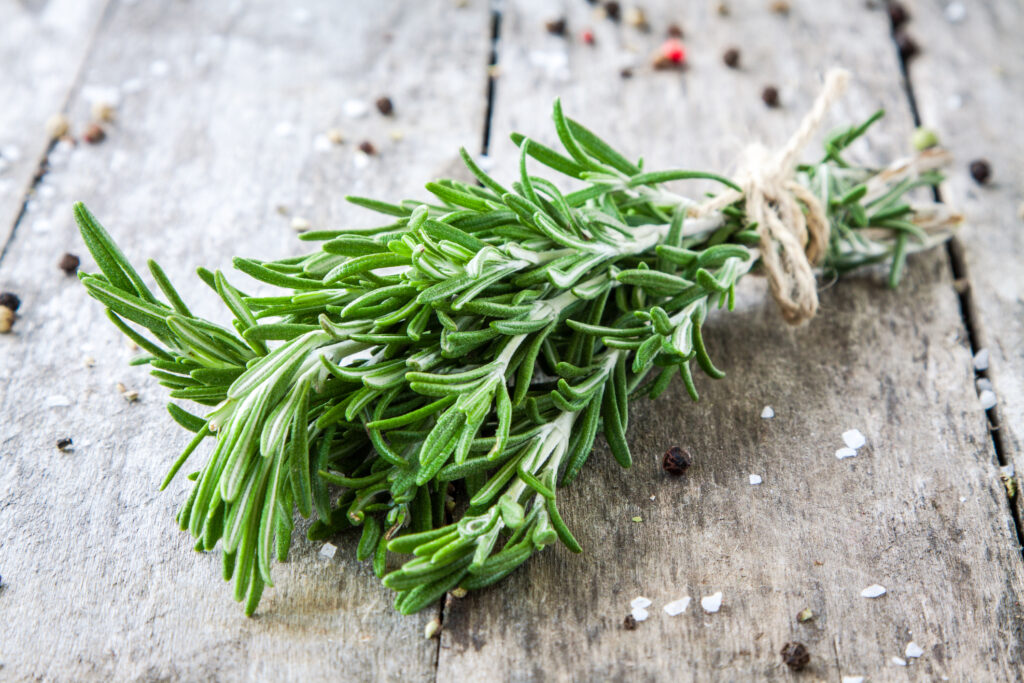 Rosemary is a popular herb for holiday meals and indoor kitchen gardens. It is aromatic and adds delicious flavor to stews, meat dishes, and sides; like stuffing, bread, roasted vegetables, and mashed potatoes. Rosemary is often pruned into an evergreen tree or topiary for festive holiday décor.
Rosemary Growing Tips
Also a Mediterranean native, Rosmarinus officinalis seed will germinate in 15 to 20-days if kept moist in well-drained with a consistent soil temperature of 70° to 75°F. Lightly covered seeds with plastic wrap over the top of the pot will help keep seeds properly moist but not too wet.
Once germinated, place your rosemary in a bright sunny spot and water it lightly weekly or when the soil feels dry. Rosemary hates wet feet so do not overwater it and ensure that the soil and pot have good drainage.
Thyme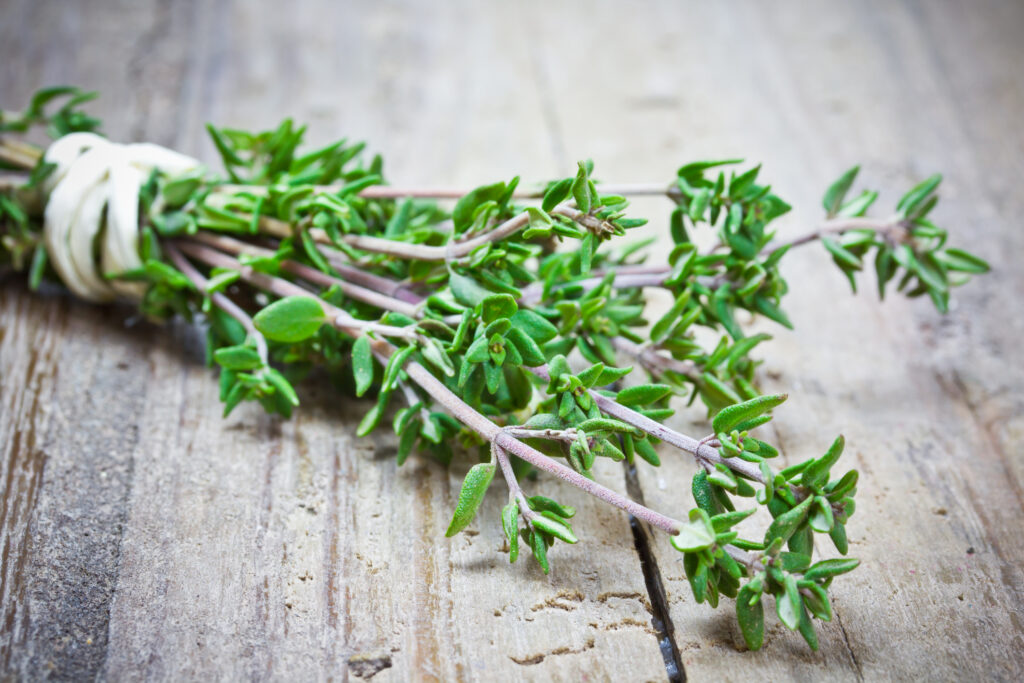 Thyme's subtle sweet but spicy, earthy flavor and fragrant leaves blend into many dishes, from savory to sweet, from salad dressings to marinades, sauces, and rubs. Thyme stems are woody, so strip the tender leaves off to use for cooking. Thyme is another must-have herb for turkey and stuffing. I also like to sprinkle it on root vegetables like sweet potatoes and turnips for a flavorful side dish.
Thyme Growing Tips
This perennial plant will grow like weeds when planted in the right environment. Place thyme in a bright window that gets full light almost all day long. If you do not have a sunny spot, grow lights will work too. Thyme is susceptible to root rot, so choose a sandy, dry, well-draining mixture to ensure water moves through the soil quickly. Thyme, like Rosemary, is drought-resistant, wait until the soil has dried well before watering.
Sow Thyme seeds over the pre-moistened soil surface and cover them lightly. Cover the pot with plastic wrap and place the pot in a warm location to aid in germination. As with other herb seeds, light is not required for germination but it does help if seeds are pre-soaked for 8 to 12 hours.
Making The Most From Herbs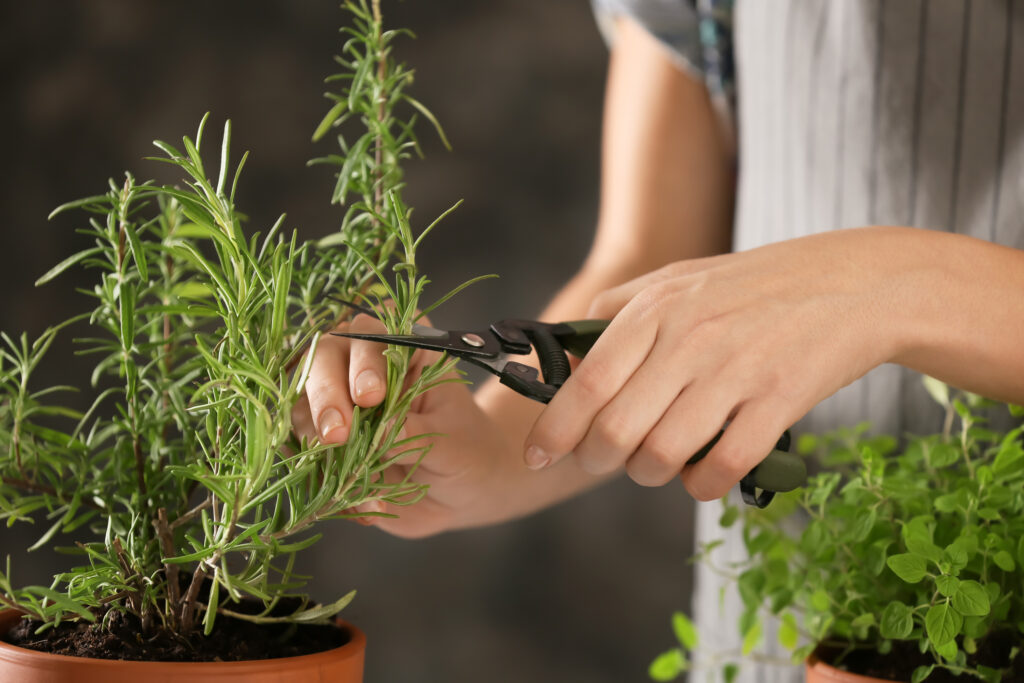 There are many other herbs you may wish to grow like bay, chives, oregano, basil, dill, and more depending on which local cuisines inspire you. Have fun trying different herbs and finding which ones you and your family like best. Keep them close for easy, quick picking if you can. Kitchen or dining room windows work great if they get enough sun. Finally, remember to harvest your herbs often to encourage growth and beautiful thriving bushy plants.
About the Author: Kara Zondag, Jung Seed Co. Communications Specialist, was born and raised gardening and cooking with her mom in Virginia. She now lives in Georgia, with her husband and two toddlers, where she tends to a large, multiple raised bed edible garden and collects interesting houseplants. Kara loves to cook, make her own delicious teas, and explore all that nature has to offer.