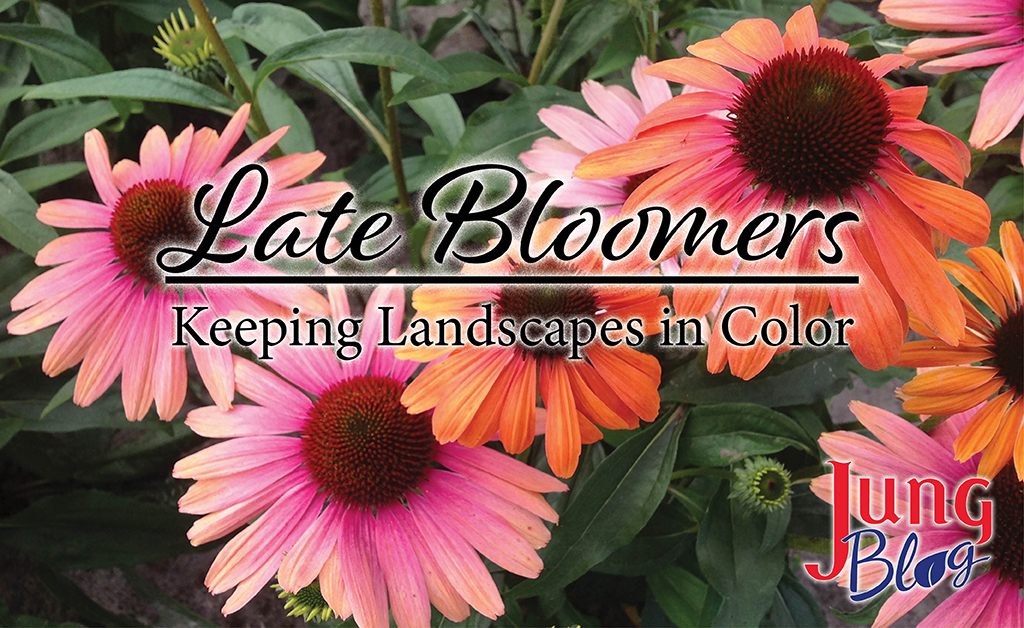 Perennials are a staple of the garden, and each year they come back to impress us with their floral display. I look forward to the spectacular blooms on my perennials every year, as do many of you. Creating consistent colors in the garden can be a challenge. Perhaps your garden is full of spring-blooming perennials that look gorgeous in May, but those blooms soon fade, leaving you little color to enjoy in summer. You can solve this problem by planting long-blooming perennials. Here are a few plants to count on for long-lasting color.
Rozanne Geranium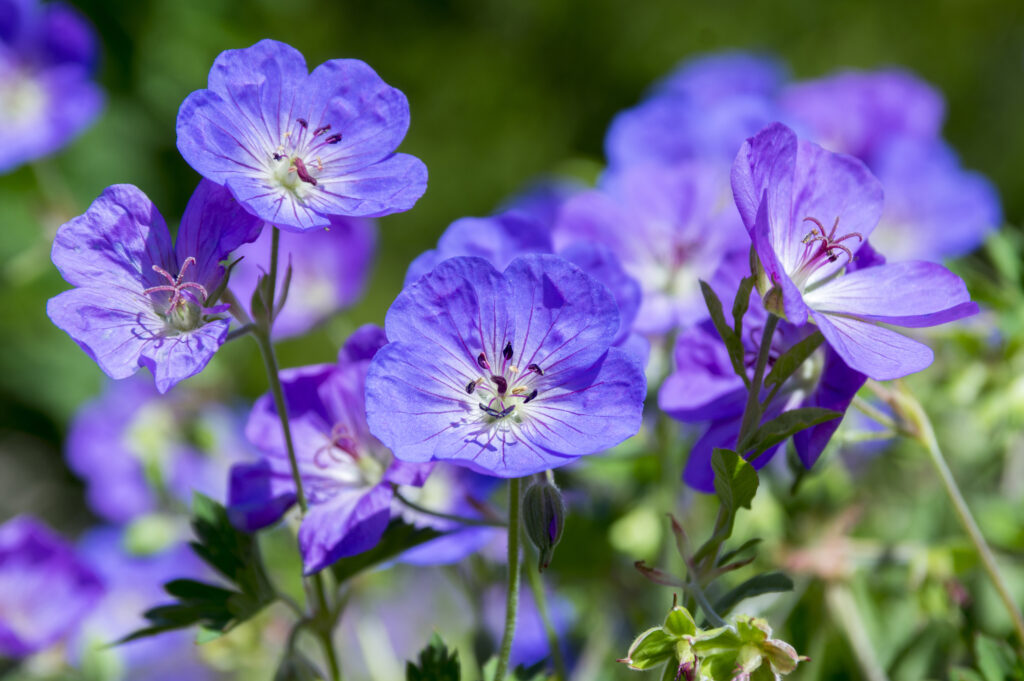 Hardy Geraniums come in many varieties. Some are known for their scented foliage, while others are grown for their flowers. 'Rozanne' is a sterile hybrid considered the longest-blooming geranium on the market. I've grown this variety for several years and am amazed by the long bloom time. It begins blooming in June and continues until the first frost, which can be in November during a warm fall. An advantage of being sterile is the plant doesn't produce seeds, giving it the energy to continue making flowers. 'Rozanne' does best in the full-part sun with moist soil. It can tolerate drier soil but will be less vigorous. Some gardeners cut back the plant in midsummer, as the foliage tends to sprawl. 'Rozanne' is an exceptional groundcover, growing about 18 inches tall and 36 inches wide. You will often find 'Rozanne' planted near taller perennials or roses.
Goldsturm Rudbeckia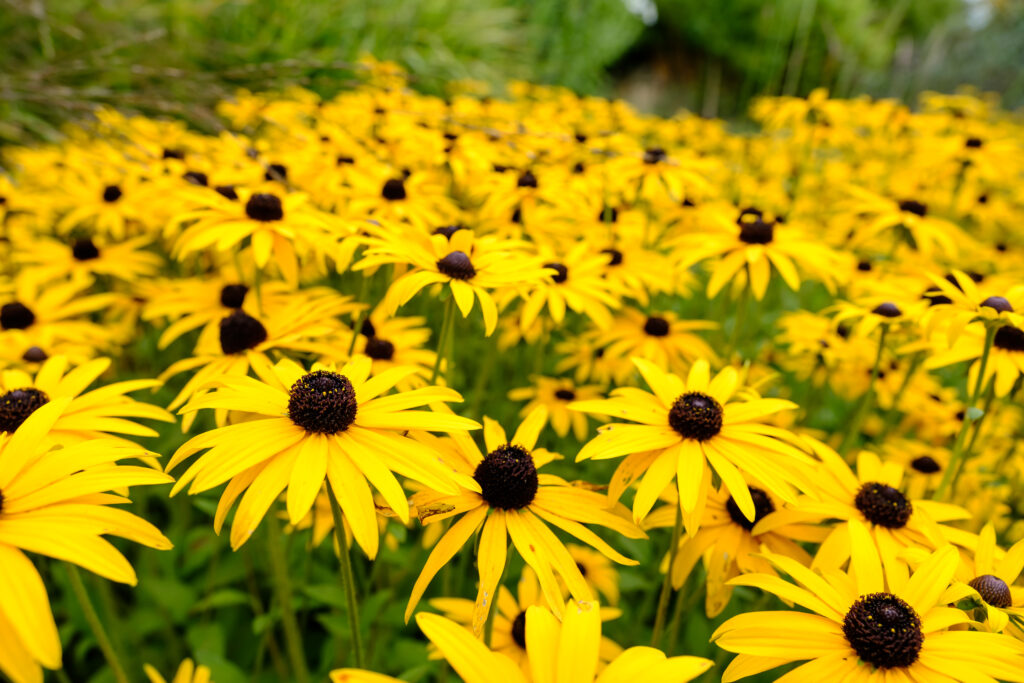 This classic rudbeckia is known and loved by gardeners around the country. The tight clumps of foliage give way to daisy-shaped flowers in mid-late summer. In my garden, these begin blooming in late July, lasting until the end of September. 'Goldsturm' is an excellent choice if you need some late-season color when many perennials are winding down for the season. This variety does best in areas with full sun and good airflow. 'Goldsturm' will spread by seed, but not aggressively.
Junior Walker Nepeta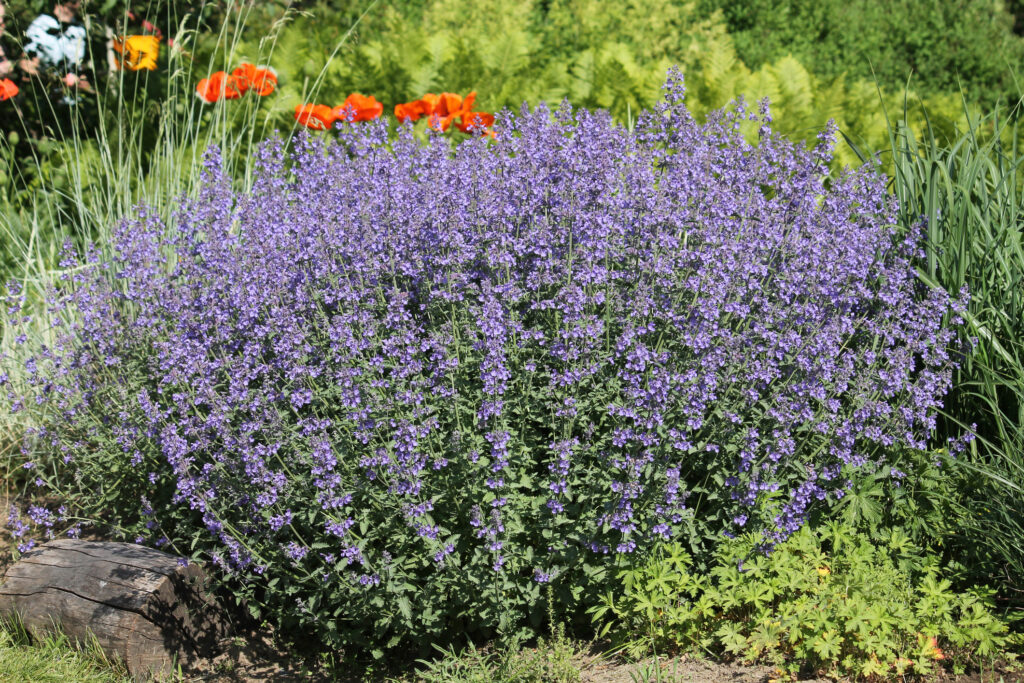 You may be familiar with 'Walkers low' if you've grown nepeta. 'Junior Walker' is a similar but more compact variety. The plant only reaches 18" tall, making it ideal for smaller gardens. Nepeta blooms heavily in early summer, then continues to bloom lightly throughout summer. Nepeta is a less aggressive member of the mint family, featuring aromatic foliage and lavender flowers. You can grow nepeta in mass or as a groundcover for borders. It also performs well in rock and herb gardens. For best results, plant in full sun with well-draining soil. The common name for Nepeta is Catmint.
Butterfly Weed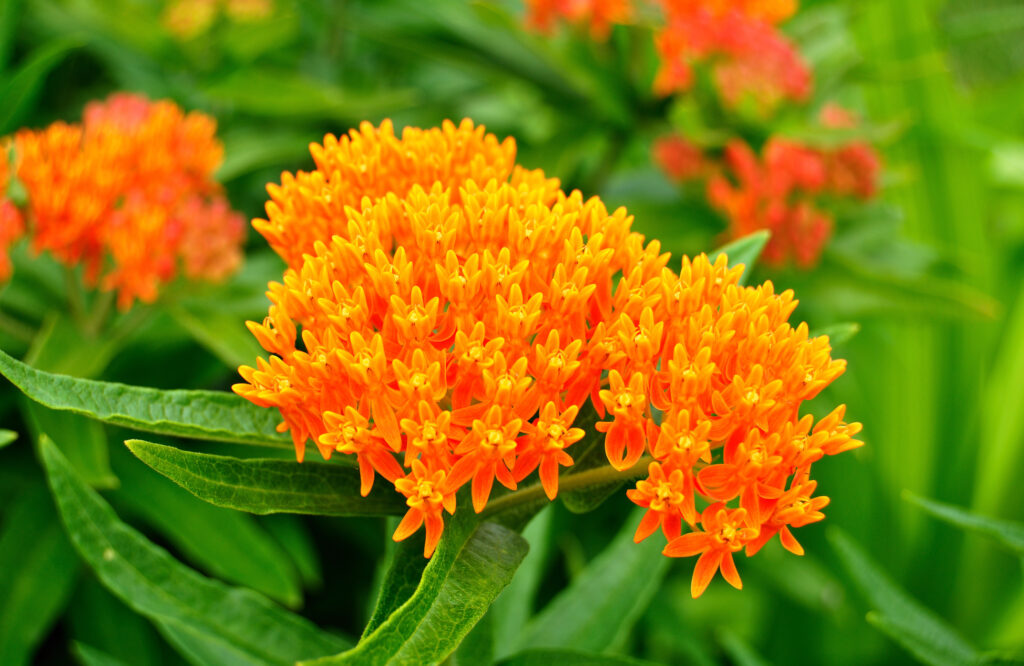 Orange is uncommon among our native plants, but this milkweed is unique. The star-shaped flowers of butterfly weed almost look tropical as their blooms stand out in the garden. While late to emerge in spring, this perennial quickly grows in 18-24-inch-tall and wide clumps. The flowers begin to bloom around early July and continue until the end of August. As the flowers fade, the large seedpods become visible, adding additional interest to this fun plant. Butterfly weed thrives in well draining soil, making it an excellent choice for areas with sandy soil. Consider marking the location of your plant; otherwise, you may forget where they're planted. Like other Asclepias, butterfly weed is a host plant for monarch butterflies.
Denim 'N Lace Russian Sage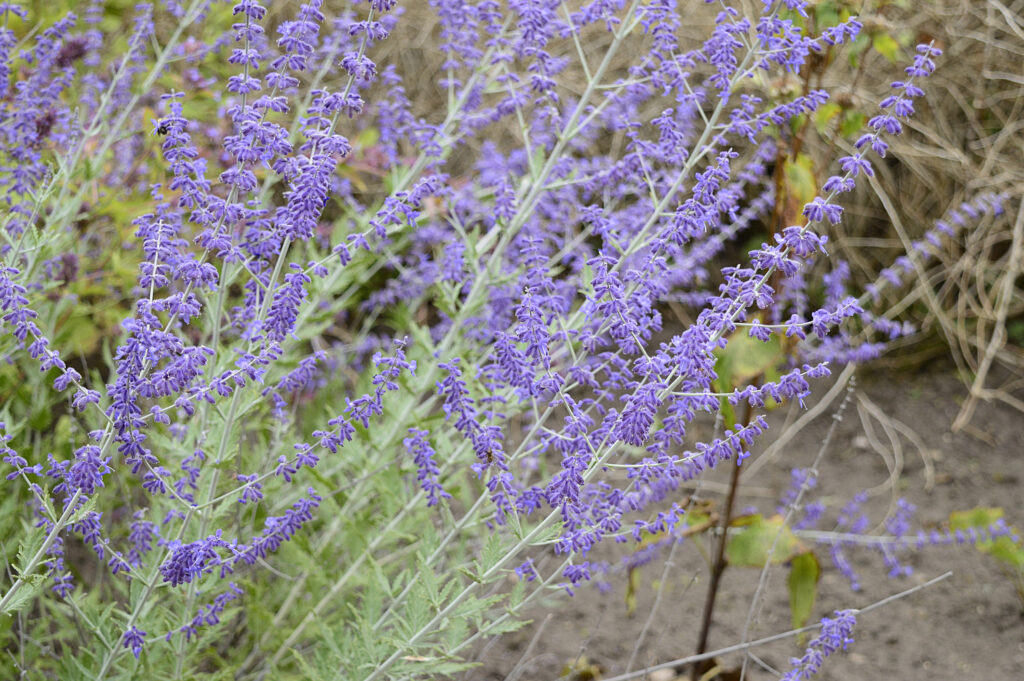 This semi-shrub features long-lasting blooms and a low-maintenance personality. One negative trait of Russian sage is the tendency to flop over when blooming. 'Denim 'N Lace solves this problem by growing upright and compact. Older varieties of Russian sage grow up to 4 feet tall, but 'Denim 'N Lace stays under 3 feet. The gray-green foliage is aromatic and finely dissected to create a unique texture in the garden. In July, delicate blooms emerge above the plant and continue to bloom until fall, attracting numerous pollinators. This species is drought-tolerant and unattractive to deer. Russian sage should be cut back during spring cleanup, leaving 6-12 inches of stem at the base.
David Phlox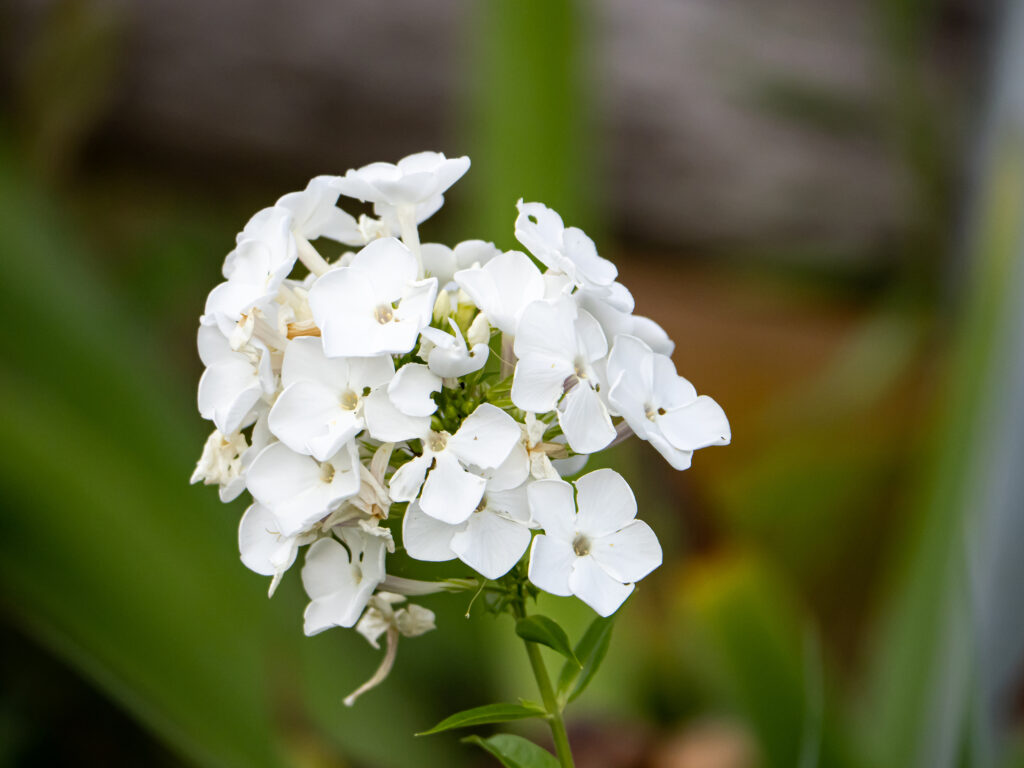 Phlox is a beautiful perennial, but it can be prone to powdery mildew. Fortunately, breeders are coming up with varieties that are resistant to fungal disease. 'David' is well known for its mildew resistance and long-lasting blooms. The fragrant flowers are pure white and bloom from mid-late summer. Full sun and healthy soil are critical for this perennial, as it likes consistent moisture. Looks good scattered in the garden or planted in groups. 'David' will reach 3-4 feet tall, making it ideal for the middle of a border.
Autumn Joy Sedum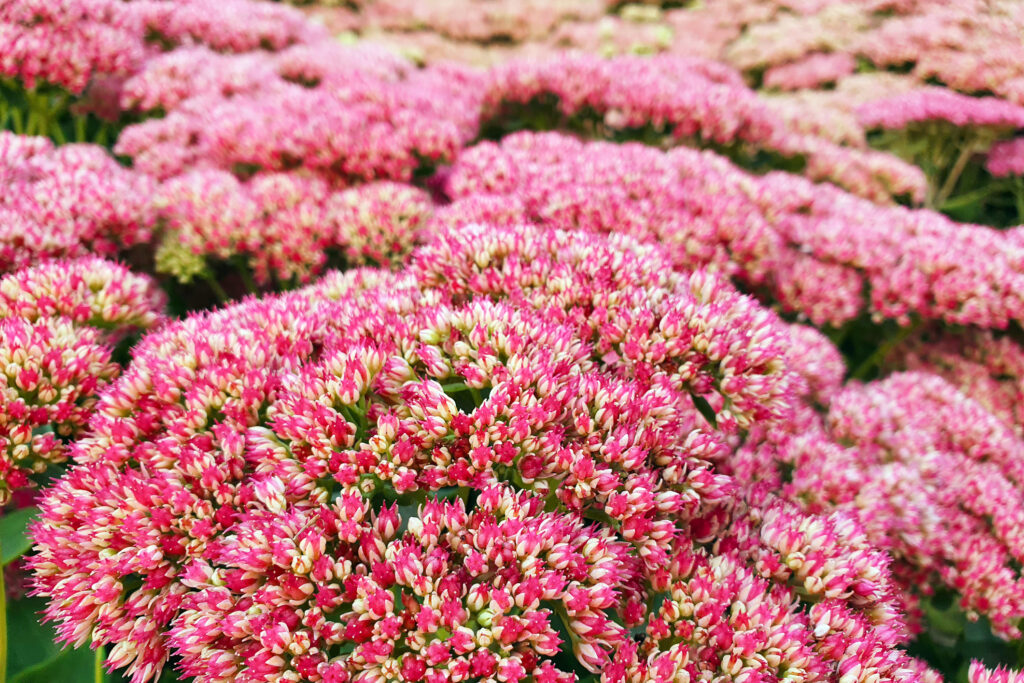 Unlike some perennials, the flowers of 'Autumn Joy' continue looking their best as they age. In late summer, the rose-pink blossoms open, attracting pollinators and butterflies. A few weeks later, the flowers become rusty salmon before turning a rich shade of auburn. Sedums are hardy succulents that come in many varieties with different growth habits. 'Autumn Joy' features upright foliage, growing 18-24″ tall. Sedum is a long-lasting and durable plant if you have full sun with well-draining soil. They look stunning when planted in mass, especially near fall-blooming perennials like Rudbeckia.
Poquito Orange Agastache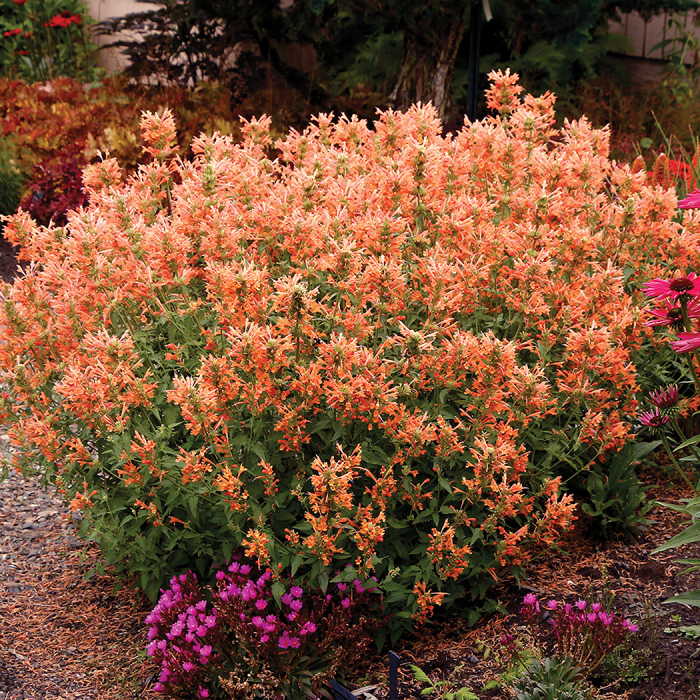 'Poquito Orange is a newer variety of Agastache, featuring orange blooms on compact plants. The fragrant flowers begin to bloom in early summer and continue into fall. Pollinators love visiting this licorice-scented plant. This species requires full sun with good drainage to thrive. Looks best when planted in groups along a border but can also be used as a groundcover. 'Paquito Orange' grows 12-15 inches tall and is hardy to zone 5.
A Succession of Bloom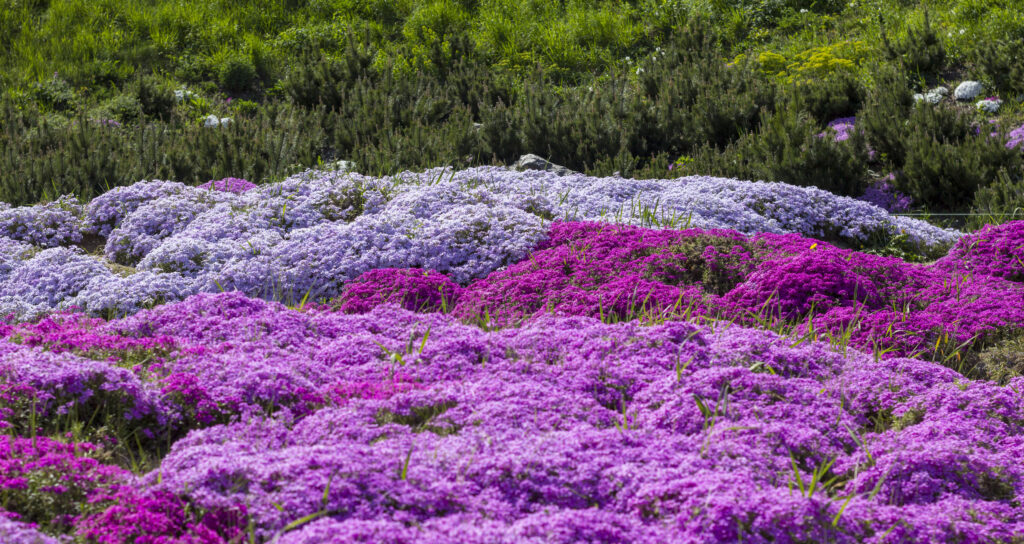 Perennials rapidly progress during the growing season, from emergence to full bloom. The plants listed above are a great way to ensure your garden has color but remember to use a variety of plants with different bloom times. Doing this allows you to create a succession of blooms. This means growing perennials that bloom in different parts of the season to give your garden an entire season of color. I hope you're inspired to try these long bloomers in your garden.
Other Recommended Reading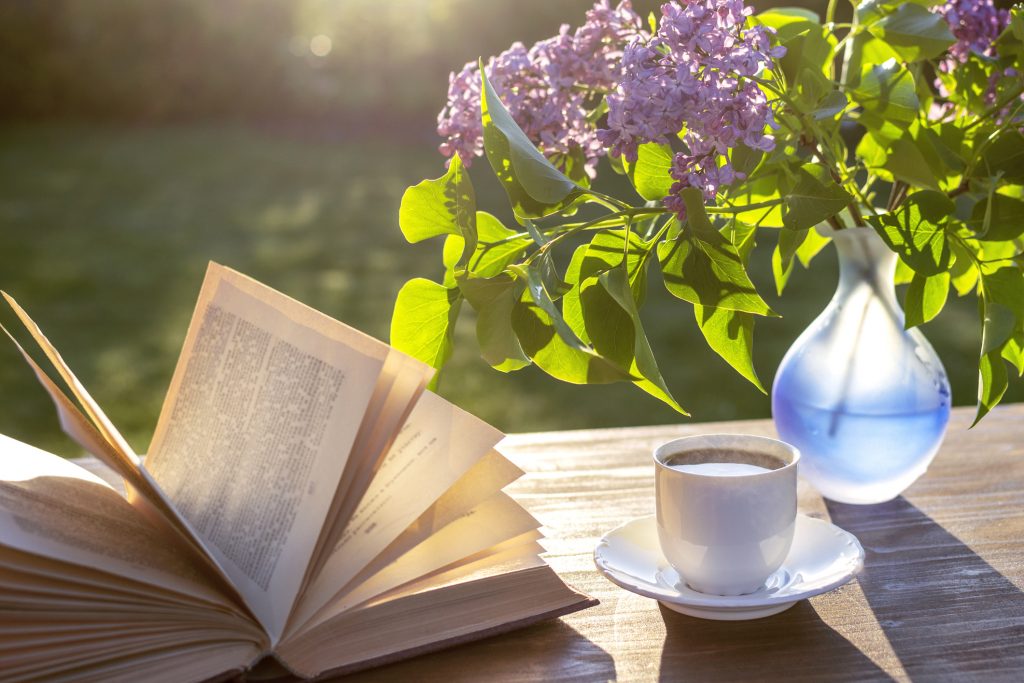 At Jung Seed Co, we strive to be your go-to guide for all your gardening needs. Our YouTube channel The Garden Doctor by Dick Zondag is where he provides gardening tips for all levels of gardeners. When you need reliable gardening advice, turn to the trusted experts at Jung.
View our catalog online or browse our website for all of your gardening favorites. To receive info on new products, exclusive deals, and specials, be sure to sign up for our weekly email. Join our Facebook page, to discuss all things gardening!
About the Author: Matthew Olson is a professional horticulturist and garden writer. He has a bachelor's degree in horticulture from UW-River Falls and is a certified professional with the Minnesota Nursery and Landscape Association. His enthusiasm for plants and the outdoors brought him to the green industry. He regularly writes articles about gardening for both gardeners and industry professionals. He can be reached at matt@mattolsonhorticulture.com