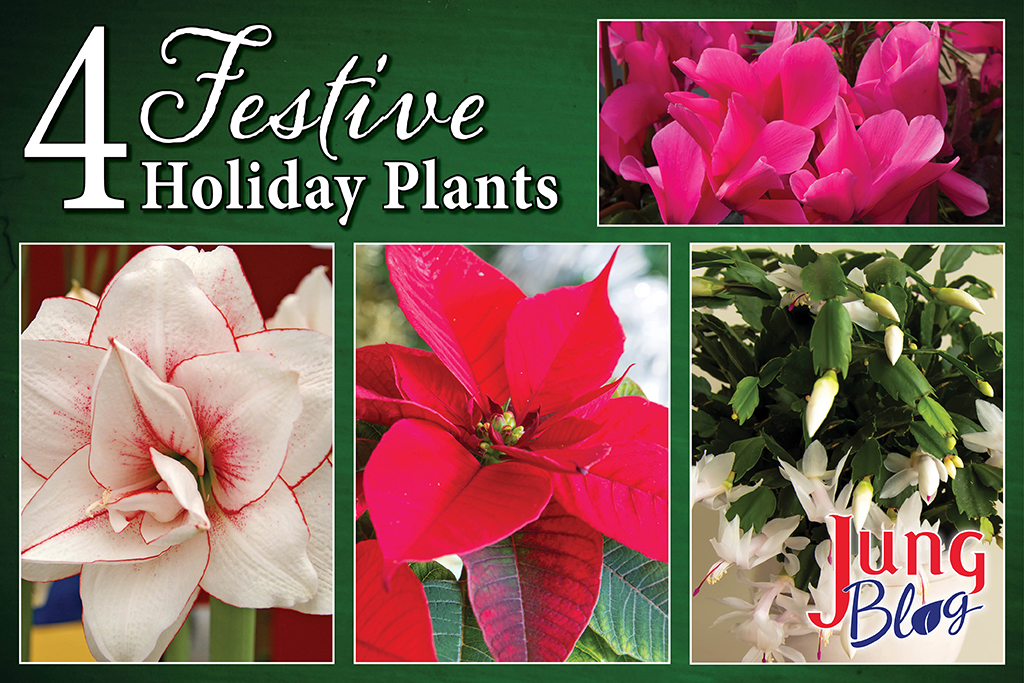 The weather outside is frightful, but the indoor temperature is delightful. As you head to the nursery this time of year, you'll see an assortment of plants produced for the Christmas season. Among those plants are poinsettias, a popular shrub known for its red bracts (a type of leaf). There are other species you can grow this time of year too. As a bonus, many of these plants can be grown as houseplants throughout the year. Let's examine the various holiday plants and consider how to make them thrive beyond Christmas.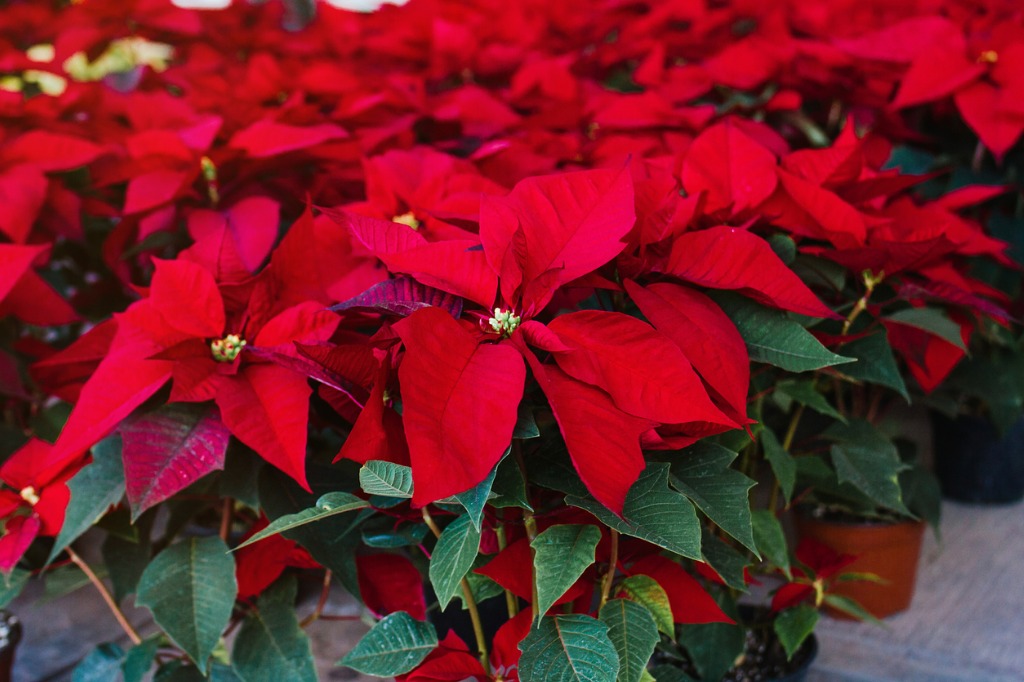 Poinsettias
Poinsettias are popular for a good reason. They come in various colors, ranging from dark red to light pink. This member of the Euphorbia family comes from Mexico, where it grows into a large shrub. As daylight becomes shorter, the bracts turn red, revealing a display of color not often seen in nature. In the center of the bracts are small yellow flowers. Over the years, breeders have worked with Poinsettias to develop unique varieties featuring different color combinations.
Keeping a poinsettia alive through Christmas is simple. Just water it occasionally, and don't expose it to cold air. Growing a poinsettia year-round is also easy, but you should know a few things.
As the new year begins, your poinsettia will lose its red leaves, which is normal. As winter continues, give your poinsettia plenty of light and occasional water. If you notice leggy growth, consider trimming the plant down to about 6 inches in late winter, this will encourage compact growth.
As summer approaches, repot the poinsettia into a large container and move it outside into a shady spot. After a few weeks, you can move the plant into a sunny location until Labor Day. During the summer, it's good to fertilize the plant occasionally to promote vigorous growth.
In early September, move the plant indoors to acclimate it to lower light. Once the fall equinox arrives (Sept. 23), give the poinsettia 16 hours of uninterrupted darkness each day and 8 hours of bright light. Note: The poinsettia cannot be exposed to any light during the darkness period. A basement, closet, or box is adequate for the dark period. Continue this process until Thanksgiving. At Thanksgiving, place the poinsettia on a sunny windowsill and let the plant dry slightly between watering. Repeat this cycle for next year.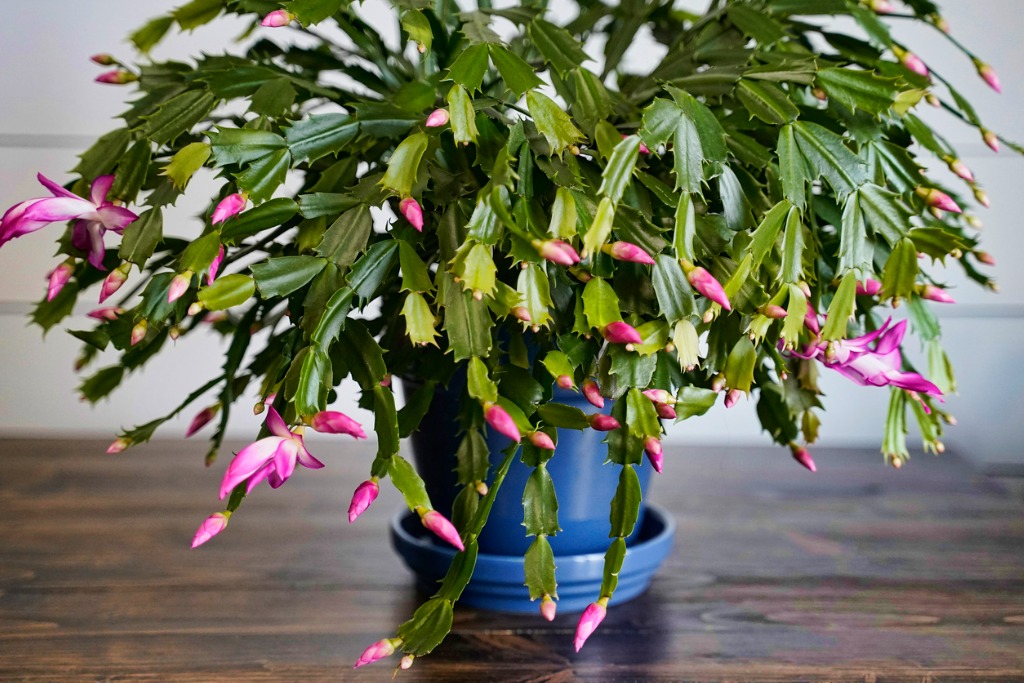 Holiday Cacti
We often think of cacti growing in the desert, but holiday cacti come from the rainforests of South America. This unique group of cacti grows in tree crotches, where they experience almost daily rainfall. There are two species of holiday cacti grown this time of year: Thanksgiving and Christmas. One way to distinguish the two species is to look at the leaf edges. Thanksgiving cactus has pointed or scalloped leaf edges, while Christmas cactus have more round leaf edges.
Both species are excellent houseplants and bloom toward the end of the year. Thanksgiving cacti bloom slightly earlier than Christmas cacti.

Holiday cacti are excellent houseplants when given the right conditions. They require bright indirect light and can be put outside in a shady location during the summer. Well-draining soil is needed to keep the plants healthy, as they rot in soil with excess moisture. A bark-based soil is ideal for this group of plants. Holiday cacti are considered "short-day plants," meaning they create flower buds when the days become shorter in fall. The best way to initiate blooms is to leave your plants outside until right before a fall frost. However, many people leave their plants indoors year-round and have abundant flowers.
Night temperatures play a role in flower development too. The ideal temperature to create flowers is 55-65°F. Temperatures above 65° will inhibit blooms.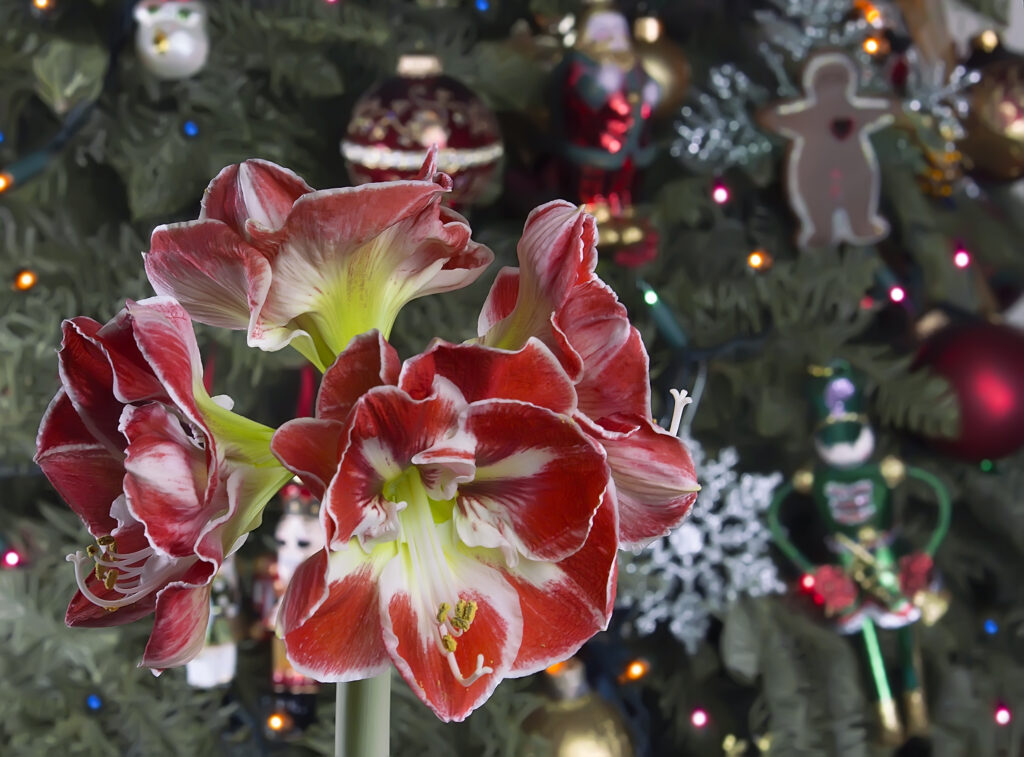 Amaryllis
The impressive flowers of this bulb stand out. The Greek word for Amaryllis means "to Sparkle," and they sure do! Amaryllis come in various colors, from red to white and everything in between. Like other holiday plants, these will likely be in bloom when you purchase them. The flowers last a couple of weeks before giving way to green leaves.
The flowers highlight these plants, but many gardeners keep their Amaryllis for several years. Once the plants finish flowering, they should be placed in a sunny location, like a windowsill. Continue watering the plant to keep the green leaves healthy and growing. Remember, these leaves produce the energy needed for future flowers. Keeping the plant outdoors is ideal for creating maximum growth for the leaves. You should bring the plants inside before the first frost and put them in a cool dark location, allowing the leaves to become brown and wither. Withhold water from the bulbs for 8-12 weeks, then bring the plants into a sunny spot. The flowers should develop within 4-6 weeks. You can repeat this cycle to have blooms each year.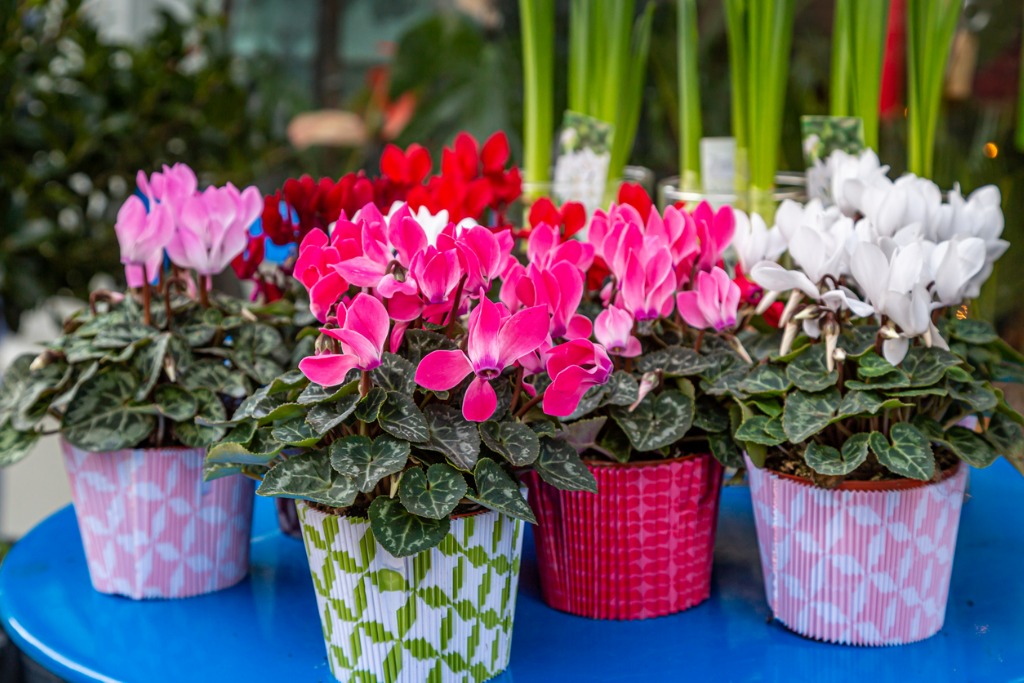 Cyclamen
These plants are small but also unique. Their flowers and leaves are eye-catching, making this plant stand out among holiday plants. The butterfly-like blossoms rise above the heart-shaped foliage to create a beautiful contrast. Flowers come in various colors, but red, white, and pink are the most common. Some varieties even have flowers with ruffled edges!
As the blooms fade, place your cyclamen in a spot with bright light. A windowsill is preferable as the plants prefer cool temps at night. Just be sure to avoid cold drafts. Cyclamens require a dormant period in early summer. To prepare cyclamen for dormancy, allow the leaves to die and reduce watering gradually. Once the plant is dormant, stop watering it for about two months. You should keep the plants in a cool location during this time. After two months, start watering the cyclamen occasionally. Once it forms new leaves, you can water and fertilize it like normal. Getting a 2nd bloom from cyclamen can be tricky, so don't be discouraged if you have difficulties getting them to rebloom.
Holiday plants are lovely any time of year, and each of them has unique features you can observe in every season. Happy Gardening!
Other Recommended Reading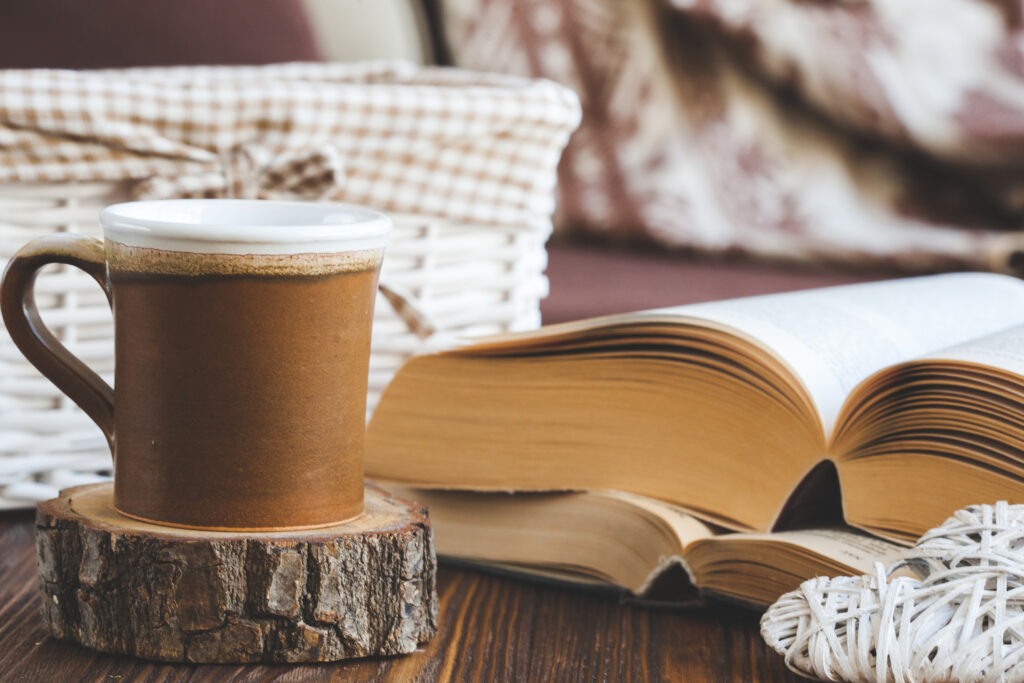 At Jung Seed Co, we strive to be your go-to guide for all your gardening needs. Our YouTube channel The Garden Doctor by Dick Zondag is where he provides gardening tips for all levels of gardeners. When you need reliable gardening advice, turn to the trusted experts at Jung.
View our new catalog online or browse our website for your gardening favorites. To receive info on new products, exclusive deals, and specials, be sure to sign up for our weekly email. Join our Facebook page, to discuss all things gardening!
About the Author: Matthew Olson is a professional horticulturist and garden writer. He has a bachelor's degree in horticulture from UW-River Falls and is a certified professional with the Minnesota Nursery and Landscape Association. His enthusiasm for plants and the outdoors brought him to the green industry. He regularly writes articles about gardening for both gardeners and industry professionals. He can be reached at matt@mattolsonhorticulture.com