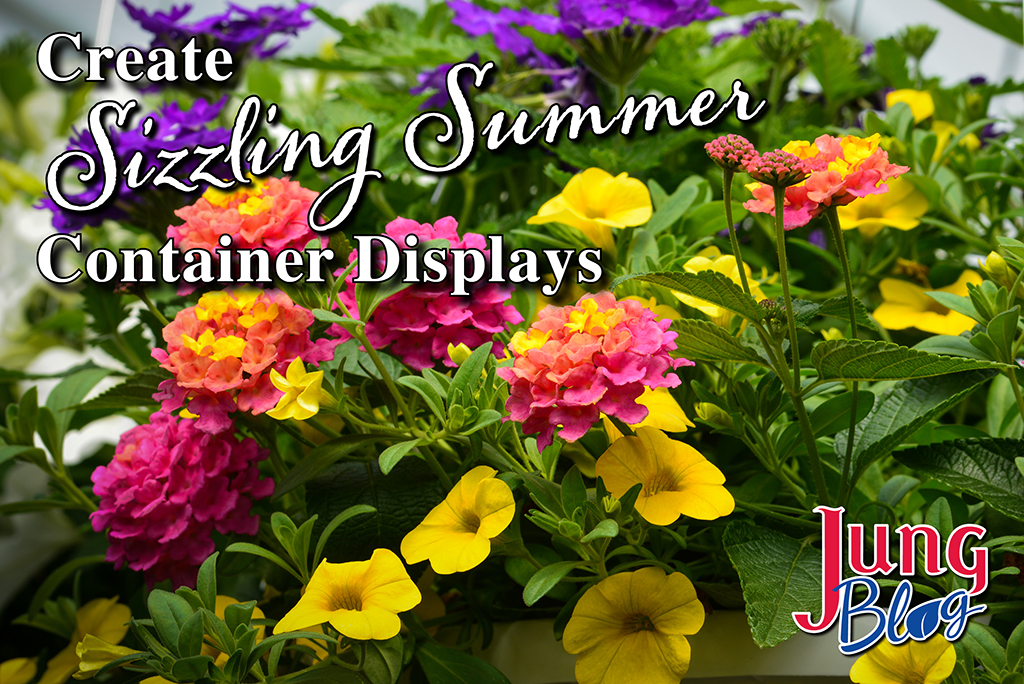 Summer is quickly approaching, so it's time to decorate your outdoor spaces with plants. Containers are a fantastic way to display plants on your patio, balcony, or any outdoor space, giving you a close view of gorgeous flowers and unique foliage. Before you head to the nursery and stock up on plants, it's essential to have a plan for your pots.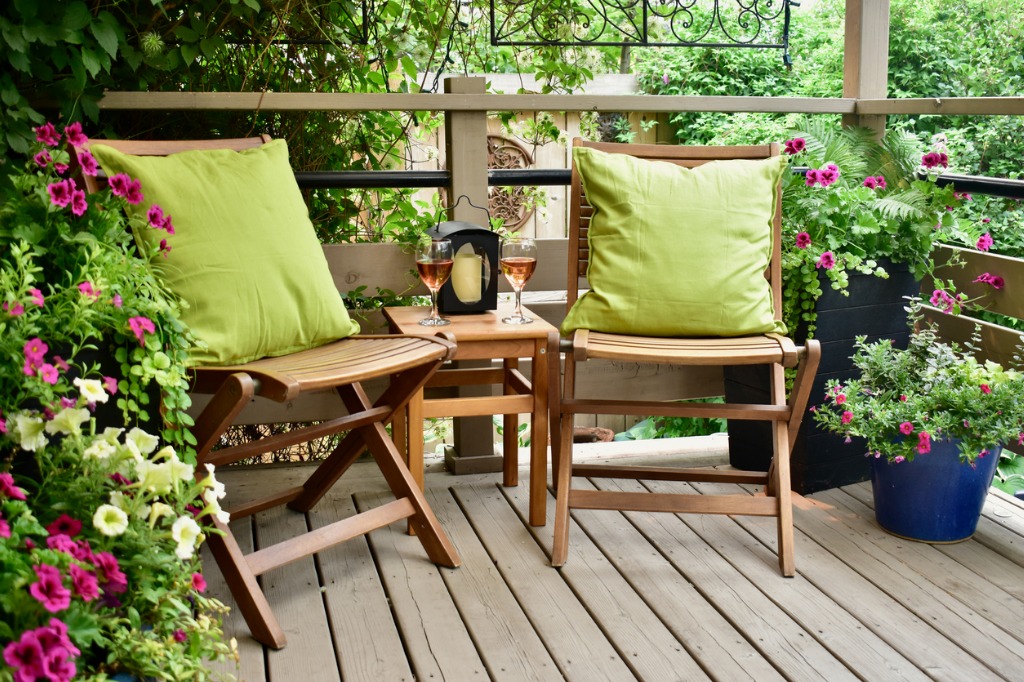 Container Goals
Before summer begins, take a few moments to set goals for your container displays. Here are some questions to ask yourself:
Do I want my outdoor plant displays to match my interior decorating style? Each of us has a specific way of decorating our houses, which can apply to the outdoor décor. Perhaps you have a rustic home that would look great with rustic pots on the porch or driveway or a modern-style home with modern pots.
What are my site conditions? Plants are versatile, allowing you to grow them in almost any outdoor space. Understanding how much sun your containers will receive is crucial for success. Sunny locations will give you more options, but shady areas also present many opportunities. You should also know how much water the plants will receive. Certain plants tolerate watering neglect, while others require frequent watering to thrive. Either way, plants in containers need more frequent watering than plants in the ground.
How do I want this display to look three months from now? Some annuals remain compact and tidy, while others grow large. You want to make sure the plants you select will grow well together. Many gardeners, including myself, can share stories of plants that took over their pots and smothered the plants around them. Make sure to give those larger plants ample space.
What plants do I enjoy growing? If you're new to growing plants, this question may be harder to answer. However, you probably have specific colors or textures you enjoy observing. The Jung catalog contains annual plants that can inspire you as you search for ideas.
Do my container displays have a theme? You may be growing plants on a pool deck and want to include tropical plants, like Canna lilies and palms. A shaded patio is excellent for a mini jungle with lush foliage plants. The plant options are unlimited for adding ambiance to your outdoor space.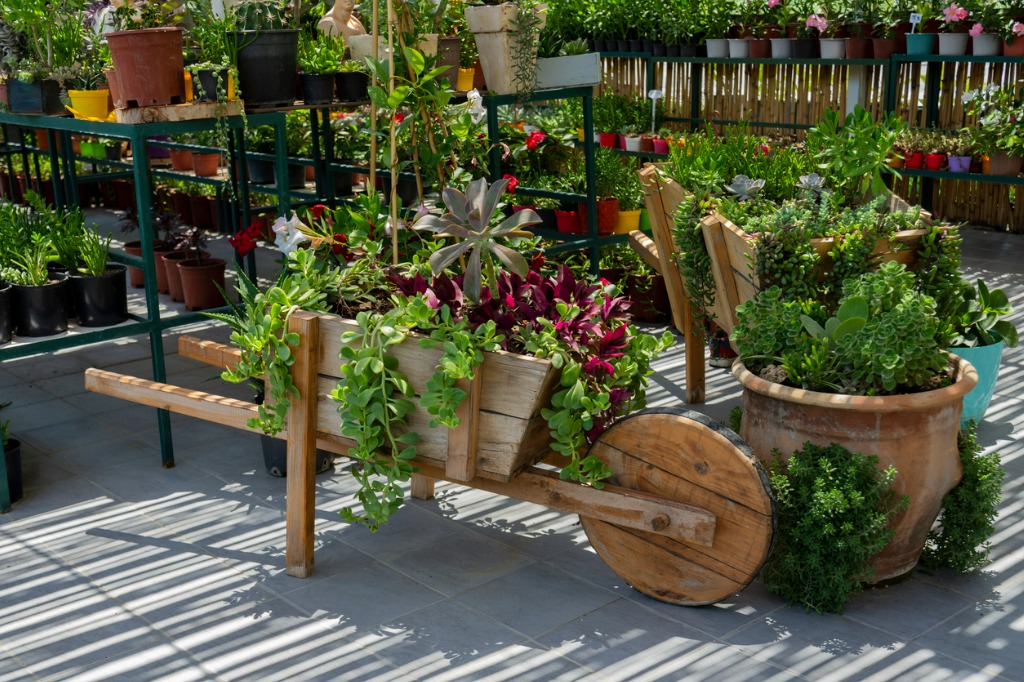 Design Elements
When it comes to containers, plants are typically grouped into one of three categories, thriller, filler, and spiller. Here's a breakdown of each term:
Thriller- These plants add height to the container and are usually the focal point. Examples of thrillers are Purple Fountain Grass, Canna Lilies, and Colocasia.
Filler- Plants in this category fill the space around thrillers. They are shorter than thrillers and may have a more spreading habit. Some common examples are Petunias, Begonias, and Geraniums.
Spiller- As the name suggests, these plants have a trailing habit that leads them to spill over the side of containers. Examples of spillers include Sweet Potato Vine, Creeping Jenny, and Vinca Vine.
Your site conditions play a crucial role in deciding what plants to grow. Sites with full sun are great for flowering plants that prefer heat, while shaded areas are ideal for foliage plants. If you have part shade, consider using a mix of foliage and flowering plants that grow well in less sun.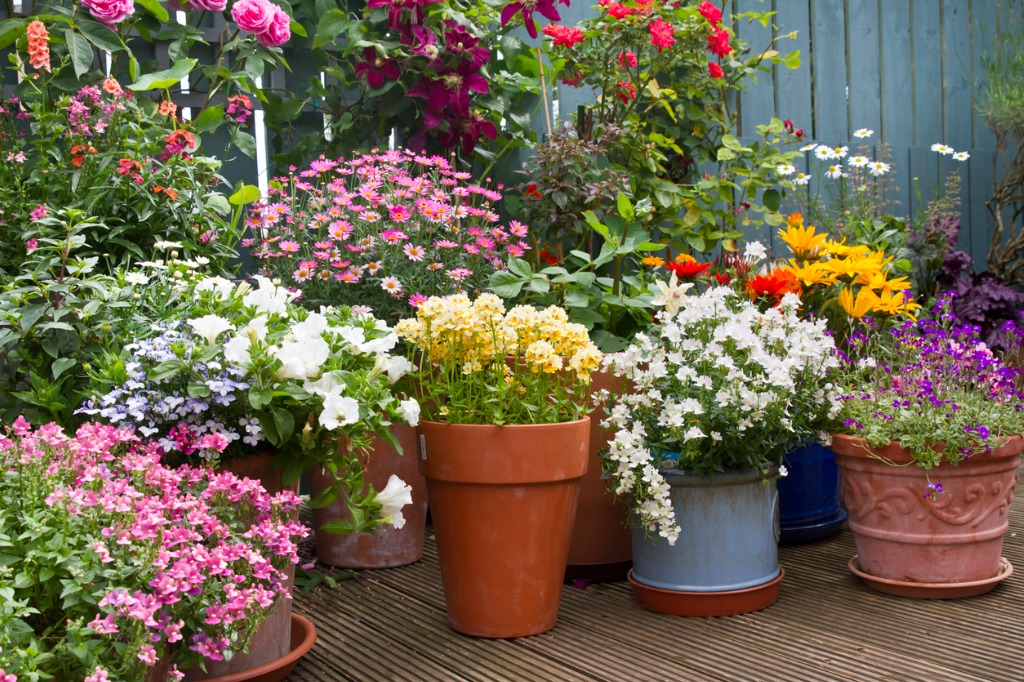 Using Color In Containers
Each of us has our favorite colors, but certain combinations of color tend to stand out and make the plants shine. You can divide colors into two categories, warm and cool. Here's a description of each with examples.
Warm Colors– Think of colors that remind you of sunsets, like orange, red, and yellow. These colors are energetic and make the plants seem closer to you. Color affects your perception of space, with warm colors making a more prominent space seem smaller.
Cool Colors– These colors make the plants seem further away, allowing a small space to feel more significant. Cool colors bring a soothing effect to an area. Purple, white, blue, and green are examples of cool colors.
These two groups of colors are often blended to provide contrast. A few common pairings are purple and red, purple and orange, yellow and purple. As you can tell, purple is often used in plant pairings. A few others are red and white, pink and silver, yellow and brown.
Colors within each group also look good together. Some examples are red and yellow or blue and white.
Gardeners often have themed containers with cool or warm colors to create a consistent look. One thing to remember is color applies to foliage too. Many annuals have colorful foliage, like flowers, that may be used as a focal point. We'll talk more about foliage plants shortly.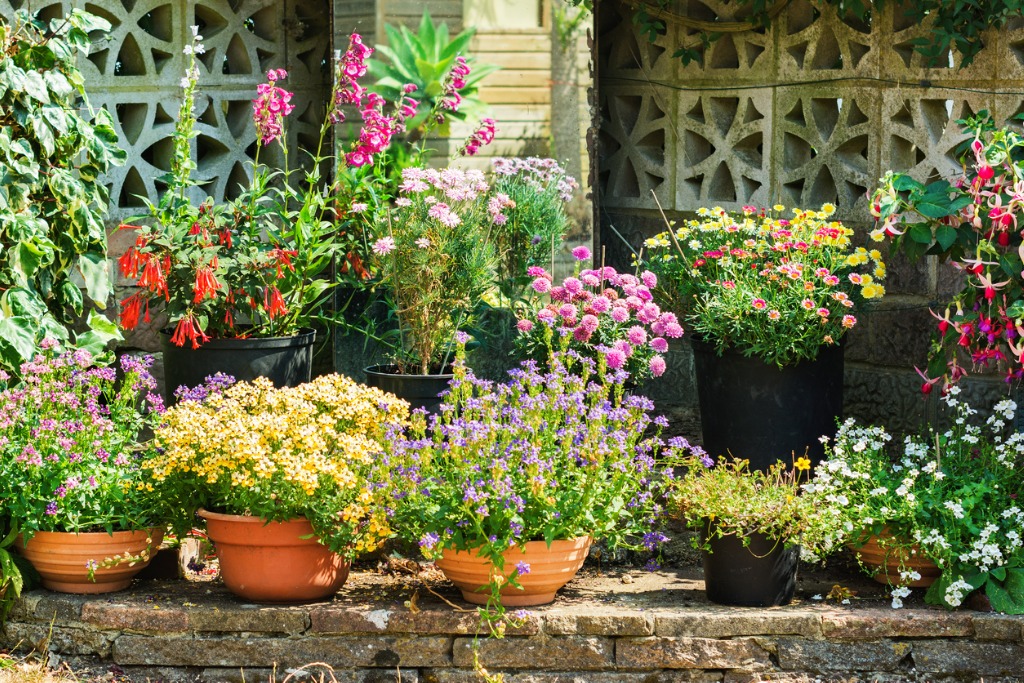 Texture
Texture plays a role in how you perceive the plants in a container. The three types of texture are fine, medium, and coarse.
Fine textured plants usually have small leaves or flowers, giving the Plant a light or airy feel. Some examples are Purple Fountain Grass, Creeping Jenny, and Baby's Breath.
Coarse textured plants have large leaves or flowers, making the Plant feel big and heavy. A few examples are Alocasia, Colocasia, and Canna lilies.
It's good to be familiar with the different textures, but ultimately you should plant combinations you enjoy.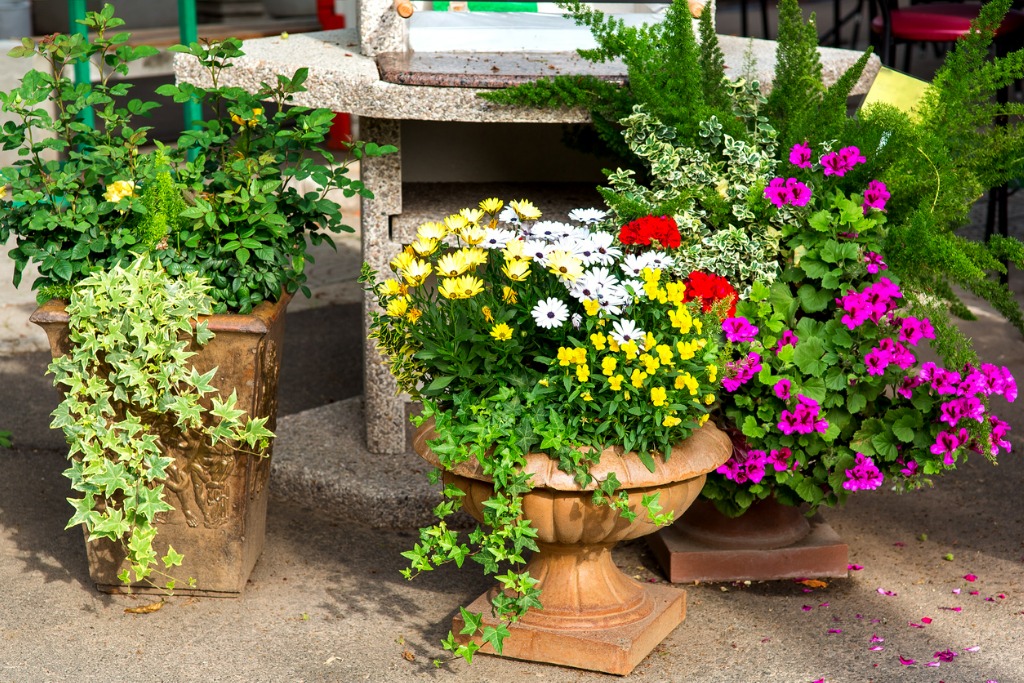 Plants for Foliage
Flowers are the main attraction for many annuals but it's good to include foliage in your plant palette. Whether you have sun or shade, many plants have unique foliage with different shapes, sizes, and colors. If you have little sunlight on your site, foliage may be a crucial part of your design. However, there are many foliage plants for sunnier sites too. Here's a list of foliage plants to plant in sun or shade.
Containers are an excellent growing method to bring the plants closer to you. It's time to get outside and enjoy another growing season!

Other Recommended Reading
At Jung Seed Co, we strive to be your go-to guide for all your gardening needs. Our YouTube channel The Garden Doctor by Dick Zondag is where he provides gardening tips for all levels of gardeners. When you need reliable gardening advice, turn to the trusted experts at Jung.
If you are in the Wisconsin area, please visit us at one of our Jung Garden Center locations for all your gardening needs. Otherwise, you can browse our website. To receive info on new products, exclusive deals, and specials, sign up for our weekly email. Join our Facebook page, to discuss all things gardening!
About the Author: Matthew Olson is a professional horticulturist and garden writer. He has a bachelor's degree in horticulture from UW-River Falls and is a certified professional with the Minnesota Nursery and Landscape Association. His enthusiasm for plants and the outdoors brought him to the green industry. He regularly writes articles about gardening for both gardeners and industry professionals. He can be reached at matt@mattolsonhorticulture.com.