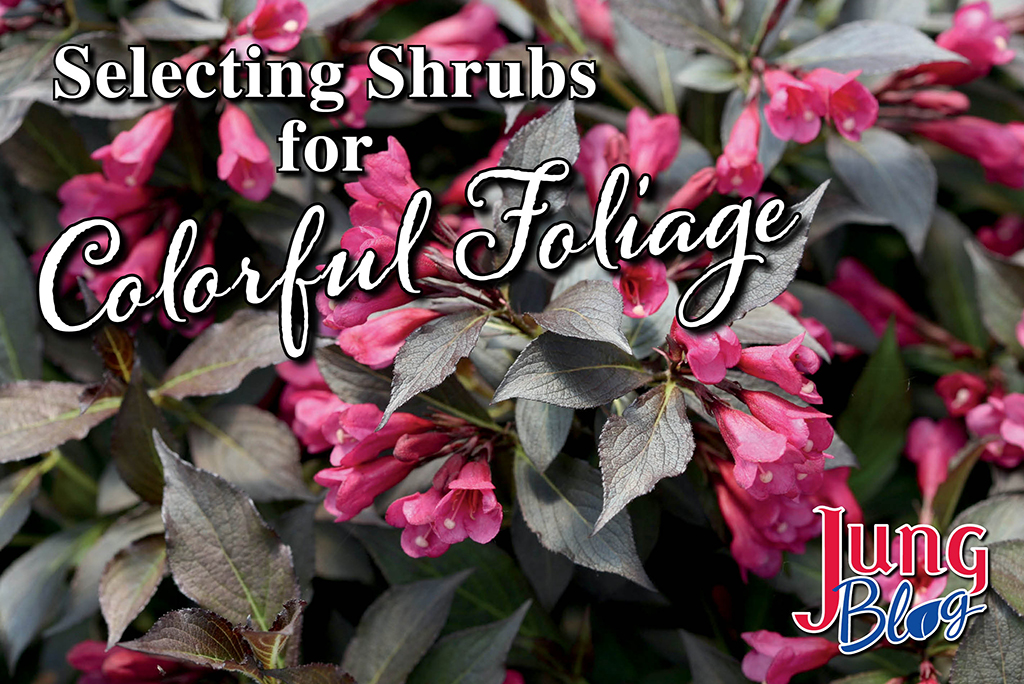 As I look through my old garden photos, I'm reminded of the impact of foliage plants on the landscape. Shrubs, in particular, can provide you with color that continues to draw interest. The color of these shrubs is often amplified by their unique leaf texture or plant structure. Today, we'll look at shrubs that offer exceptional color on the leaves. In addition to striking foliage, many of these shrubs have attractive flowers. These shrubs range from small and compact to large and more spreading.
Bush Honeysuckle (Diervilla)
A spreading shrub that fills in large sites and is often used to control erosion. The plants have small yellow flowers in summer, but the foliage is the main attraction. It tolerates a wide variety of site conditions, including drought.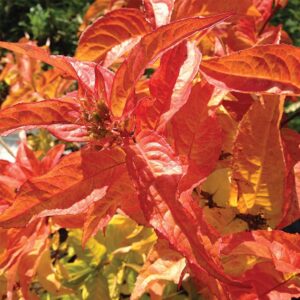 This Diervilla has bright green foliage in summer. Still, in fall, the leaves turn bright orange and red, offering a color that looks incredibly stunning in group plantings. It remains 3-4′ tall and wide, making it useful in landscapes of any size—another good choice for areas with deer.
Elderberry (Sambucus)
The leaves of Elderberry are deeply lobed, creating a beautiful texture that resembles Japanese maples. In addition, these shrubs have whorls of flowers that rise above the foliage to add stunning contrast.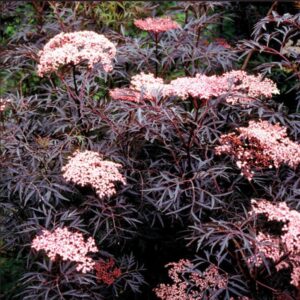 The purple-black foliage is handsome and resembles Japanese maples with its deep lobes. It produces large flowers in late spring six inches or more in diameter—a perfect shrub for perennials gardens, borders, or as a specimen.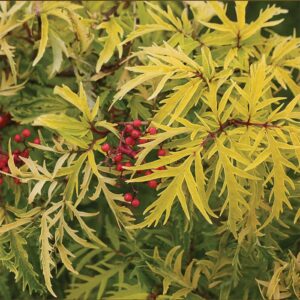 Lemony Lace® Sambucus features bright reddish new growth that matures to lemony green. In late spring, the plant is covered in white blooms that become small inedible red fruit in fall. At 3-5', this plant is suitable for small landscapes and even shaded areas.
Japanese Spirea
These small shrubs are low-maintenance and thrive with little care. In the landscape, you can use them in groups to cover large areas. Many of them have golden foliage that is attractive all season long with pink flowers. Deer will typically avoid Spirea.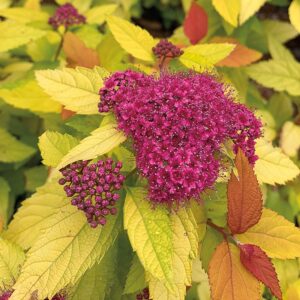 Double Play® Candy Corn® Spirea
The color continues with this shrub as the new growth emerges red in spring, changes to orange in summer, then becomes golden yellow. In addition, dark purple flowers cover the plant in spring. Remains compact and mounded.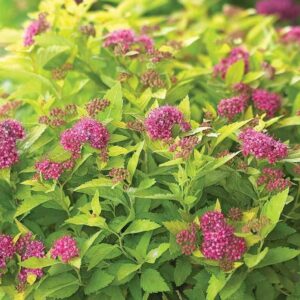 This spirea boasts numerous hot pink flowers that continue blooming all summer. These blooms contrast beautifully with the gold-green foliage to provide even more color. Once established, it requires minimal care.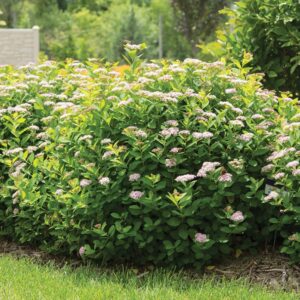 New Spirea with fantastic fall color. Vibrant pink blooms are produced in early summer, highlighting the bright green foliage. As summer ends, the foliage transforms into beautiful shades of burgundy red. At 3-4′, this Spirea is excellent for mass plantings and requires little pruning.
Ninebark
Ninebark is a native shrub known for its attractive foliage and flowers. They grow well in full sun to part shade and are excellent plants for cold climates.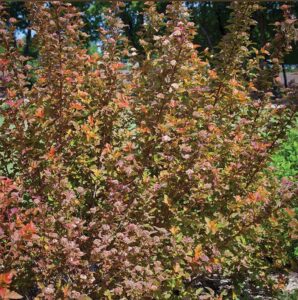 In spring, the foliage of Amber Jubilee™ resembles fall color, with shades of orange, yellow, and gold leaves emerging. The foliage retains a unique brightness as the summer continues, with showy white flowers in early summer. Fall brings shades of purple and orange to the leaves. This ninebark is a perfect size for hedges and foundation plantings. This ninebark was named after Queen Elizabeth's Diamond Jubilee in 2012.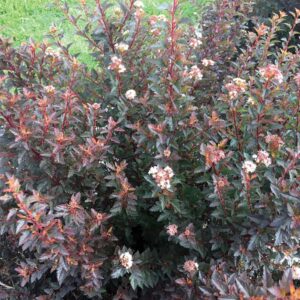 This new ninebark has loads of color, starting with the reddish-orange new growth that emerges in spring and transforms to a rich purple in summer. It also produces showy white flowers in early summer that rebloom in midsummer. At 3-4′, this native shrub remains compact and requires minimal pruning to maintain its upright shape.
Pagoda Dogwood
These large native shrubs have horizontal branching that creates a layered effect. In spring, white lacy flowers give way to dark green foliage in summer. The layered structure keeps the plant looking sharp after the leaves have fallen.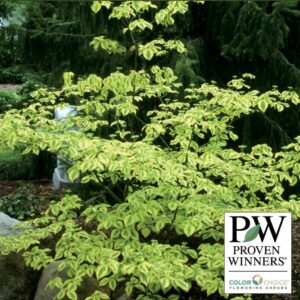 Golden Shadows® Pagoda Dogwood
Golden Shadows® offers the unique characteristics of other dogwood, but with yellow foliage that has a green center. As fall approaches, the leaves take on pink tones. At 10-12′, this variety is ideal for use as a specimen.
Smokebush
Smokebush are unique shrubs that come in a variety of sizes and colors, but they all have one thing in common. The airy flowers resemble plumes of smoke as they rise above the foliage, creating stunning textural contrast in the landscape—leaf colors for Smokebush range from green to yellow and purple.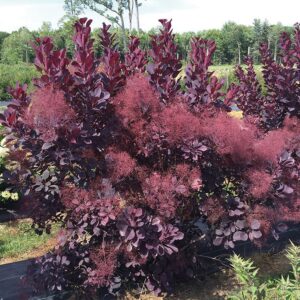 This smokebush remains semi-dwarf and is low-maintenance, requiring little to no pruning. The dark purple foliage darkens as summer progresses before turning bright orange in fall. The smoky blooms appear early to midsummer, making this shrub even more stunning—an excellent plant for foundation plantings.
Weigela
Weigela is grown for its showy flowers, but some varieties have colorful foliage. These shrubs grow best in full sun and are great plants for small spaces.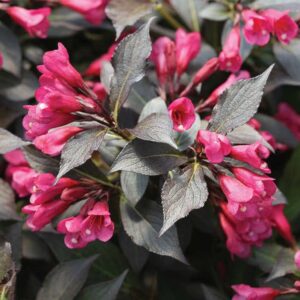 This compact weigela has wonderful color variation, with dark purple-red foliage and magenta-pink flowers. It blooms heavily in late spring but will rebloom sporadically throughout summer—an excellent choice for borders, foundation plantings, and containers. Full sun is required for the darkest leaf color.
Willow (Salix)
You may be familiar with willow trees, but they also come in shrub form. Willow loves moist soil and may grow larger than expected if given sufficient moisture. However, these shrubs are beautiful plants in the correct location. Some have deep green foliage, while others have variegated foliage.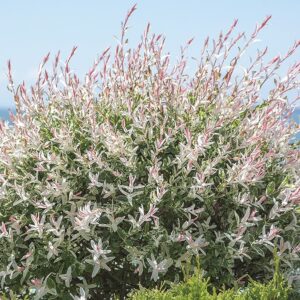 A unique willow with variegated foliage that gently moves in the breeze, adding a sense of peacefulness to the landscape. In spring, the thin branches produce small, pussy willow-like catkins that bring additional interest. Shearing is required in early summer to retain the variegated foliage.

As you can see, shrubs offer a variety of good-looking features in the landscape. Remember to plant them in the right place to let you enjoy them for years.
Other Recommended Reading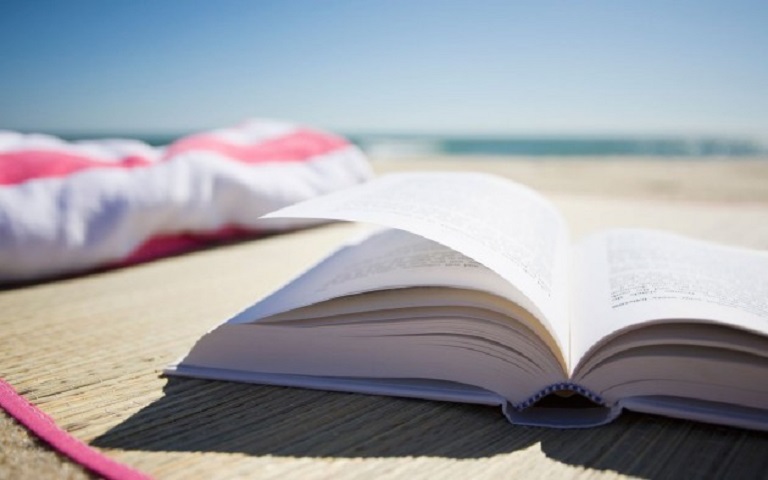 At Jung Seed Co, we strive to be your go-to guide for all your gardening needs. Our YouTube channel Jung Garden Center has a variety of videos where our experts provide gardening tips for all levels of gardeners. When you need reliable gardening advice, turn to the trusted experts at Jung.
If you are in the Wisconsin area, please visit us at one of our Jung Garden Center locations for all your gardening needs. Otherwise, you can browse our website. To receive info on new products, exclusive deals, and specials, sign up for our weekly email. Join our Facebook page, to discuss all things gardening!
About the Author: Matthew Olson is a professional horticulturist and garden writer. He has a bachelor's degree in horticulture from UW-River Falls and is a certified professional with the Minnesota Nursery and Landscape Association. His enthusiasm for plants and the outdoors brought him to the green industry. He regularly writes articles about gardening for both gardeners and industry professionals. He can be reached at matt@mattolsonhorticulture.com.