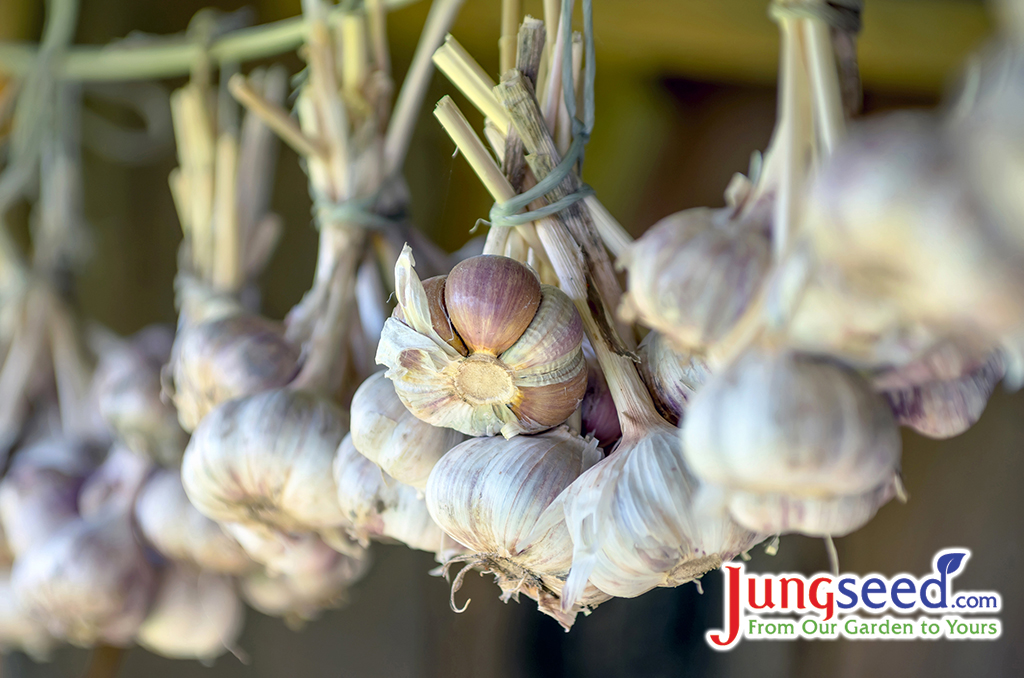 Garlic is a popular perennial often used to add flavor in cooking and are easy to grow. Although there are hundreds of varieties of garlic, we've chosen our favorite most popular garlic.
Interested in learning about how to grow and care for garlic? Be sure to check out our Garlic Growing Guide.
Popular Garlic Varieties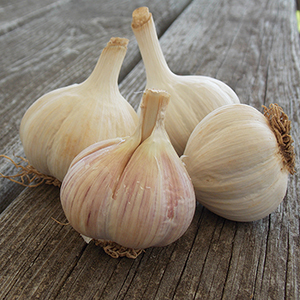 Type: Porcelain Hardneck
Hardiness Zone: 3 – 8
Storage: Up to 6 months.
Description: One of the best hardneck garlic for flavor and keeping. It has very large bulbs containing 4 to 5 huge cloves. The wrappers are splashed with purple and cloves are usually striped and easy to peel. It has a rich, mildly hot flavor.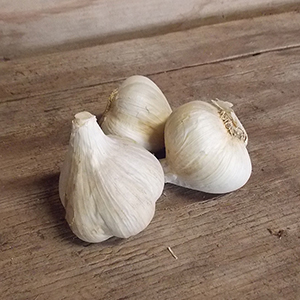 Type: Porcelain Hardneck
Hardiness Zone: 3 – 8
Storage: Up to 8 months
Description: A very easy-to-grow porcelain type hardneck garlic producing large bulbs. It has thick, papery-white outer wrappers encase 6 to 8 large, fat, elongated cloves. Its full-bodied spicy flavor makes it superb for roasting. Easy to peel. Winter hardy and stores well.
Type: Hardneck
Hardiness Zone: 3 – 8
Storage: Up to 12 months
Description: An outstanding hardneck garlic hailing from Shvelisi in the Republic of Georgia. It is one of the best for cooking and baking as it retains its shape, has a very creamy texture and full-bodied flavor. Whitish, purple-striped wrappers enclose 8 to 12 cloves. Easy to peel.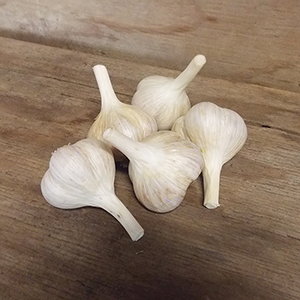 Type: Hardneck
Hardiness Zone: 3 – 8
Storage: 6+ months
Description: A hardy, high-yielding, hardneck porcelain variety out of Canada that grows well in northern climates. It has very large bulbs yielding 4 to 5 buff-colored cloves streaked with red. It has a good hot flavor. Easy to peel.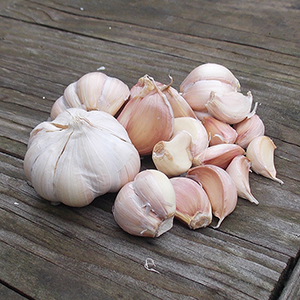 Type: Hardneck
Hardiness Zone: 3 – 8
Storage: 6 to 8 months
Description: It's all about flavor with this hardneck rocambole garlic. The easy-to-peel purple striped cloves have a smooth, creamy texture and a flavor that's a perfect balance of sweet and savory. Lends just the right amount of garlic flavor to all types of cuisine, yet still lets the other ingredients shine. Excellent for Northern areas. Stores well.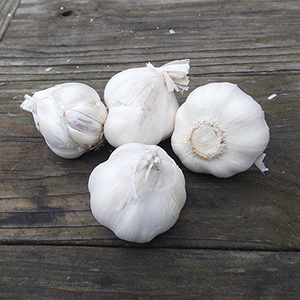 Type: Softneck
Storage: Up to 6 months
Description: A softneck artichoke garlic with tight, light-colored wrappers surrounding fat, round outer cloves. It has a pleasing rich garlic flavor. It is very productive and can be braided. Contains 8 to 12 cloves per bulb.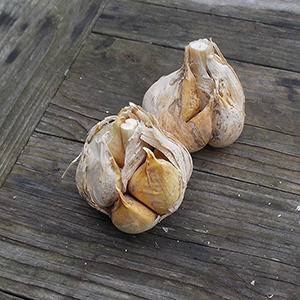 Type: Not a true garlic variety but a type of leek
Hardiness Zone: 3 – 9
Storage: 6 to 10 months
Description: The very mild flavor is ideal for soups, salads, and sauces leaving no garlic aftertaste. It is actually a member of the leek family. Mammoth bulbs can grow up to one pound or more, each with 5 to 7 huge cloves. Optimum planting times:
Optimum Planting Times For Garlic
USDA Zone 3 – plant in early to late September
Zones 3b to 5b – plant in late Sept. to early Oct.
Zones 5b to 7b – plant in mid to late Oct.
Zones 7b to 9b – plant in late Oct. to Nov.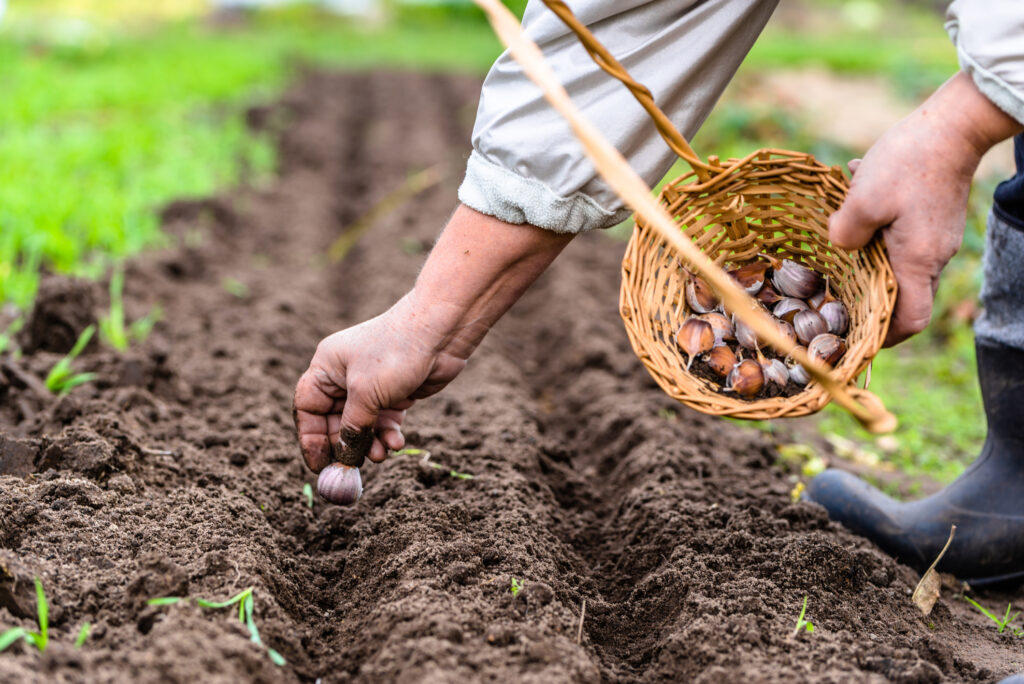 Garlic Growing Tips
Growing garlic is fun and easy. Manage your watering carefully to maintain moist but not wet soil. Soil that is too wet may yield rot and soil that is too dry may reduce the number of cloves that are produced.
In raised beds, mulching is helpful to a bit of extra winter protection. 4 to 6 inches of clean straw should do the trick.
As with onions, garlic are heavy feeders so working in some 10-10-10 Espoma All-purpose garden food prior to planting will help feed plants into spring. Adding ample amounts of leaf compost and or aged-manure can achieve the necessary level of fertility that the garlic will need to produce well.
Other Recommended Reading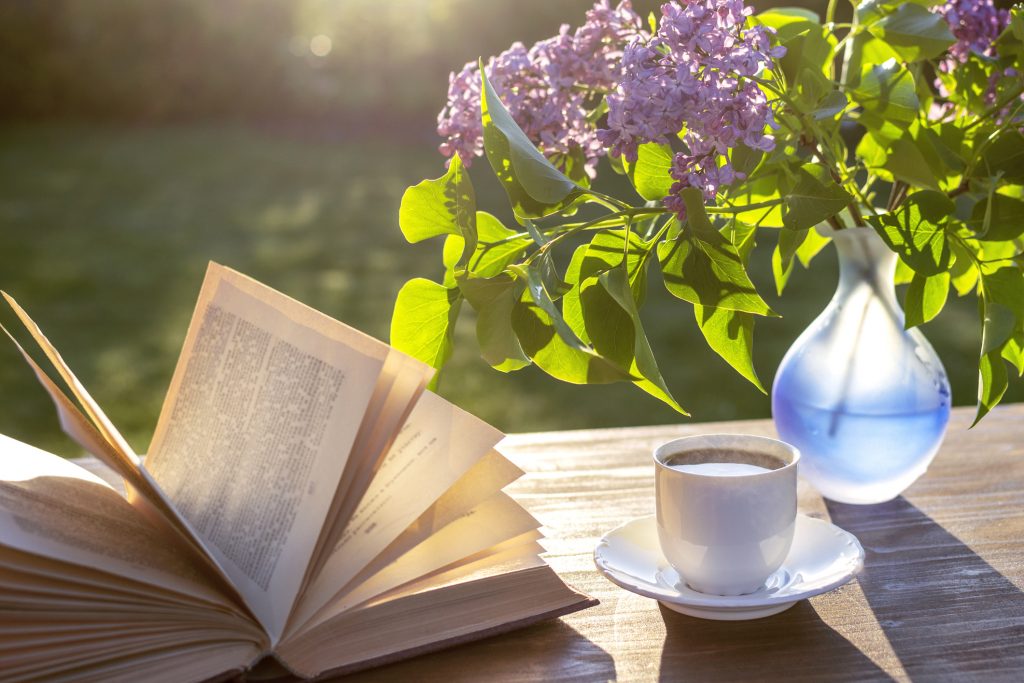 At Jung Seed Co, we strive to be your go-to guide for all your gardening needs. Our YouTube channel Jung Garden Center now includes our new video series All Things Green where our experts provide gardening tips for all levels of gardeners. When you need reliable gardening advice, turn to the trusted experts at Jung.
View our new catalog online or browse our website for all of your gardening favorites. To receive info on new products, exclusive deals, and specials, be sure to sign up for our weekly email. Join our Facebook page, to discuss all things gardening!